We are so excited that you get to experience our amazing Skin Envy blend: the top-selling, youth-enhancing serum! Your skin will definitely thank you in the days to come. Now, to ensure you get the full benefit of this little skin-care miracle, it's important to understand how to properly use Skin Envy. We have put together a step-by-step guide to help you get the most out of the potent essential oils that are packed into each bottle.
We want to break down everything you need to know to fully understand the product, ingredients, and the best methods for incorporating this skin-care superhero into your daily routine.
So, what exactly is Skin Envy?
Skin Envy is a perfectly balanced combination of 5 different plant extracts that have been hand grown and harvested during peak season. Each oil has been 3rd party GC/MS tested for purity and does not contain any synthetics, pathogens, parabens, or preservatives. These are 100% pure, all-natural, therapeutic-grade oils. It took us months to craft this specially-blended serum, and we use only rich plant extracts that are safe and amazingly beneficial for your skin.
The first thing you will notice when you open your bottle is how good the solution smells. Instantly, you are hit with a soft-yet-rich aroma that is extremely relaxing. There is nothing else on the market that compares to the scent. No fragrances. No preservatives. No parabens. Just pure plant extracts found from around the world.
What essential oils are used to make Skin Envy?
Every bottle is carefully infused with just the right mix of frankincense, myrrh, sandalwood, vanilla, and coconut. This perfect blend allows for the nutrients and compounds from the different oils to work together in a way that is more effective and potent than when used individually. Each different oil was included because it serves a specific purpose, and when all are combined, deliver the best nutrients to your skin to soothe and reverse dryness, scars, blemishes, and wrinkles. The natural anti-inflammation and anti-bacterial properties of these extracts will also help protect your skin from future damage.
My package was delivered, what do I do now?
As you open your package, you will notice that we send Skin Envy in minimalist protective packaging to help reduce our carbon footprint and unnecessary waste. There are no brochures or inserts included, so if you ever have questions about how to use the product or about the ingredients, you can always reference this page or contact our customer service department.
Carefully remove your bottle(s) from the packaging, and let's get started!
Understand that Skin Envy is designed for any part of your skin that needs healing and replenishment. Your face, neck, chest, arms, and legs can all get extremely dry and become problematic. There is a wide range of issues that cause skin irritations, and it is highly recommended that you use Skin Envy daily to maximize and expedite your results.
When you ordered Skin Envy, you selected either our 30ml Bottle(s) and/or our 10ml Roll On(s). The serum is the exact same in each bottle. Also, you can easily use the dropper from the 30ml bottle to refill the roll-on bottle.
There are several different ways to use both types of bottles. Let's talk about the roll-on bottle first.
The roll on bottle of Skin Envy is meant to provide convenience for the user, meaning it can be taken and used anywhere—literally. It's common to purchase multiple roll-on bottles, and then place them everywhere: the bathroom, car, purse, work, etc.
To use the roll on bottle, simply remove the cap and then apply directly to the skin while moving in a small circular motion. This bottle is absolutely perfect when applying to your face because you don't have to put the oil on your hands first. Just use the roller top straight on your skin.
How do I use Skin Envy on my face?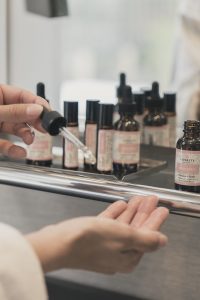 Most people that use Skin Envy for their face, do it with a simple morning and nightly routine. It only takes a few minutes to apply and is safe to leave overnight. It's important that you avoid getting the solution too close to your eyes or mouth. Simply put 10-15 drops of oil into the palm of your hand and rub all over until both hands are lightly coated. Then, proceed to lightly massage the oil into your skin in an upward motion. You never want to pull down on your skin. Apply to your forehead, temples, face, nose, and neck. Once you have lightly coated your skin, let it sit for 10-15 minutes. When finished, get a warm, wet cloth and gently dab your skin to remove any excess oil from your face.
The roll on bottle is perfect for face applications because you can avoid putting the serum on your hands. The top will disperse a thin layer of oil directly on your skin with little effort. Move the roller top in a small circular motion to cover all desired areas. Use on your forehead, crows feet, under eyes, smile lines, chin, and neck areas. Also, if you currently have red spots, blemishes, or wrinkles, make sure that these areas get applied daily.
How do I use Skin Envy on the rest of my body?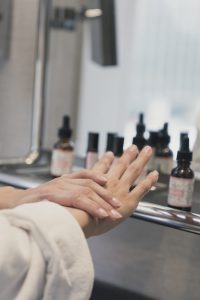 The great thing about Skin Envy is that it can be used anywhere on your body. You can roll solution onto the palm of your hands, before then using your hands to apply it to your feet, legs, arms, neck—anywhere.
To use the 30 ml bottle, carefully unscrew the cap of the bottle, and then lightly squeeze the dropper top. This will allow the dropper to fill with solution. You do not have to fill the dropper entirely but will need enough solution to generously coat your skin, just like you would with lotion.
This is perfect for morning applications and right before you go to bed. We all know how dry your skin can get after taking a shower. Next time, try using Skin Envy right after you dry off. Your pores will quickly soak up the, and your body will absolutely love you for it!
Can I use Skin Envy in the bath?
Of course, you can! This is one of our favorite ways to treat the skin. For a relaxing, full body treatment in your own home, all you need is a nice hot bath and your bottle of Skin Envy. As you start to fill the bath, put 10-20 drops in the water. The extracts will quickly disperse in the water and fill the room with an amazing aroma. Once in the water, simply soak in the plant extracts for as long as you would like. When you are finished, not only will you smell great, but your skin will feel nourished and healthy. The best part is that you don't have to leave your home for this spa-like experience.
___________________
We can't wait for you to experience this little bottle of potent nutrients. If you need any more assistance, or still have questions on how to use the solution, you can contact customer service. Make sure you join our private Facebook group where people across the world are sharing their tips and connecting with each other. You get exclusive access to new products, discounts, and giveaways only available to this group! Enjoy!