Don't feel ashamed. I was fooled, too.
I was tricked into buying way more skin care products than I needed. I thought that in order to prevent and correct skin care problems like wrinkles, crows feet, fine lines, sun spots, dark and puffy circles and blemishes I had to spend a small fortune.
All those anti-aging moisturizers, exfoliators, SPF creams, masks, peels, eye creams, skin serums, foundations, and concealers add up to $125,000 on average over an adult lifetime. What would you do with an extra $125,000?
But when you discover the shocking truth about the skin care industry, it's easy to see how we get hooked and throw our money away. And worse, the chemicals the skin care industry widely uses actually speeds up the aging process.
What the Skin Care Industry Doesn't Want You To Know
The global skin care industry is valued at over $120 billion. The makers of conventional skin care products deceive us. They make us think that we need to buy several products, layer after layer. And the disturbing fact is that none of these products are designed to help your skin. In fact, they often do the opposite.
You see, all those emulsifiers, preservatives and chemicals may soften your skin in the short-term.
But in the long run, they clog your pores and strip your face of good bacteria and natural oils. So when you experience a breakout, you rush to buy yet another product. See how the con game works?
The skin care industry's only purpose is to make money, they could care less about your skin or your health.
In fact, some of the ingredients in popular skin care products have been linked to skin ailments and irritations such as allergic dermatitis, eczema, and rosacea. These chemicals may even in part contribute to serious health complications.
Isn't spending $125,000 on skin care products that don't work crazy? On top of that, who knows how much it will cost if you get sick from years of these harsh chemicals penetrating deep into your epidermis.  
To add insult to injury, the skin care industry has the nerve to push injections, surgery and laser treatments on us.
Skin Envy: The Safe And Effective Alternative  
Oftentimes in life, the simplest solutions are the best. Like all natural Skin Envy for instance. Skin Envy is a botanical anti-aging miracle in a little bottle. The ingredients are just five plant oils. These five therapeutic plant oils—Frankincense, Myrrh, Sandalwood, Vanilla, and Coconut—are the most potent skin rejuvenating oils on the planet.
How Does Skin Envy Work?
Your skin cells need vital nutrients every day to prevent premature aging. Skin Envy is like food for your skin. It nourishes your skin cells, providing them with the vital nutrients needed for repairing and rebuilding collagen.
Collagen is the most abundant protein in your skin. After about age 30, you start losing 1-2% of your collagen. And the collagen you do have keeps getting weaker.
Skin Envy penetrates deeper into the epidermis than petroleum-based lotions and creams. The result is a healthier complexion and radiant glow.  Further, its ingredients are the safest and most effective.
Frankincense is one of the leading wrinkle-fighting ingredients in the world. It's even recommended by dermatologists. For thousands of years, women around the world have been using it as a natural astringent and youth serum.  A natural skin disinfectant, frankincense won't strip away your skin's natural oils.
Myrrh increases blood circulation to the skin. This helps minimize the appearance of hyperpigmentation (skin patches). Myrrh's healing and anti-inflammatory properties nourish damaged collagen-producing fibroblast cells.
Sandalwood is soothing and cooling to the skin. It fights inflammation and acts as a natural antibacterial. Used topically for centuries in both Ayurvedic and traditional Chinese medicine to treat skin irritations, sandalwood tightens wrinkled areas by rebuilding collagen fibers.
Vanilla is full of antioxidants and is a free radical killer. Free radicals age the skin prematurely. The inflammation-fighting antioxidants in vanilla also help relax facial muscles to help ease fine lines and wrinkles.
Coconut locks in hydration and provides a protective moisturizing barrier. It also softens and conditions dry, rough skin. It has antifungal and antibacterial properties that heal and soothe the skin, leaving it baby-soft to the touch.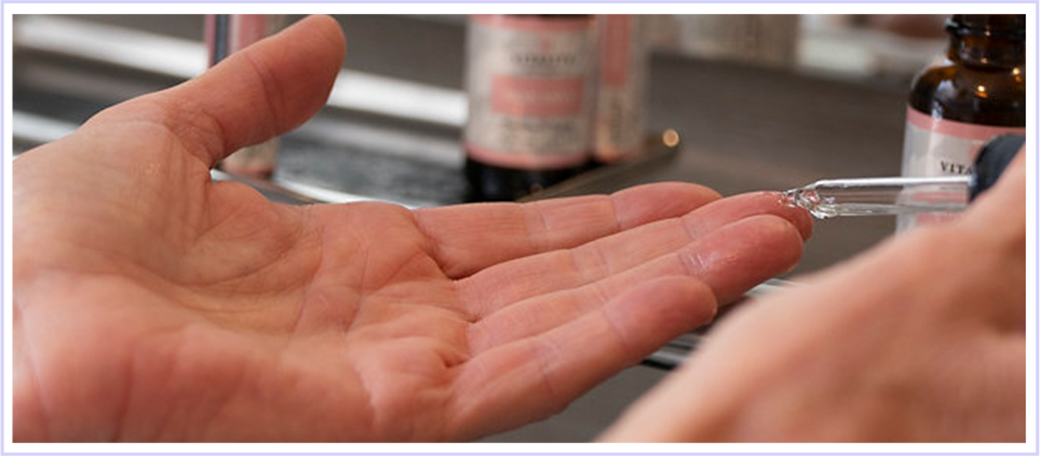 How do you use Skin Envy?
It's very easy to use Skin Envy. It's a simple 3-step process.
In the morning, pour a few drops from the 30 ml bottle and rub the drops in your palms. Apply to any problem areas of your skin. You'll instantly notice a radiant glow.

Throughout the day, use the roll-on bottle to moisturize dry skin and treat blemishes, wrinkles, and fine lines on the spot. (With every purchase of Skin Envy, you get a free roll-on bottle).

In the evening, after washing your face, massage a few drops of Skin Envy directly on your head and neck. You can also pour 10 drops of Skin Envy in your bathtub for silky, soft skin from head to toe.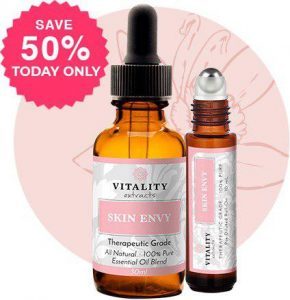 Is Skin Envy Guaranteed to Work?
Yes. There's a 60-day, no questions asked, money-back guarantee. Returns are easy and customer service is great.
How Long Will It Take To Work?
You will notice Skin Envy working right away. More dramatic results will take longer. But expect to see noticeably dramatic effects within 2 weeks.
Real Women. Real Results.

---

Special Offer
Today Skin Envy is running a 50% off and free shipping promotion. They are also giving away free roll-on bottles of Skin Envy. The more bottles you buy, the more free bottles you will receive, (but they limit you to three free bottles per transaction). All you have to do is click the coupon below. This offer is limited and expires today. So don't wait until it's too late, take advantage of this incredible offer now. Don't forget to come back and let us know about your results!
Simply click on this link or the coupon below to get 50% off and a FREE bonus bottle!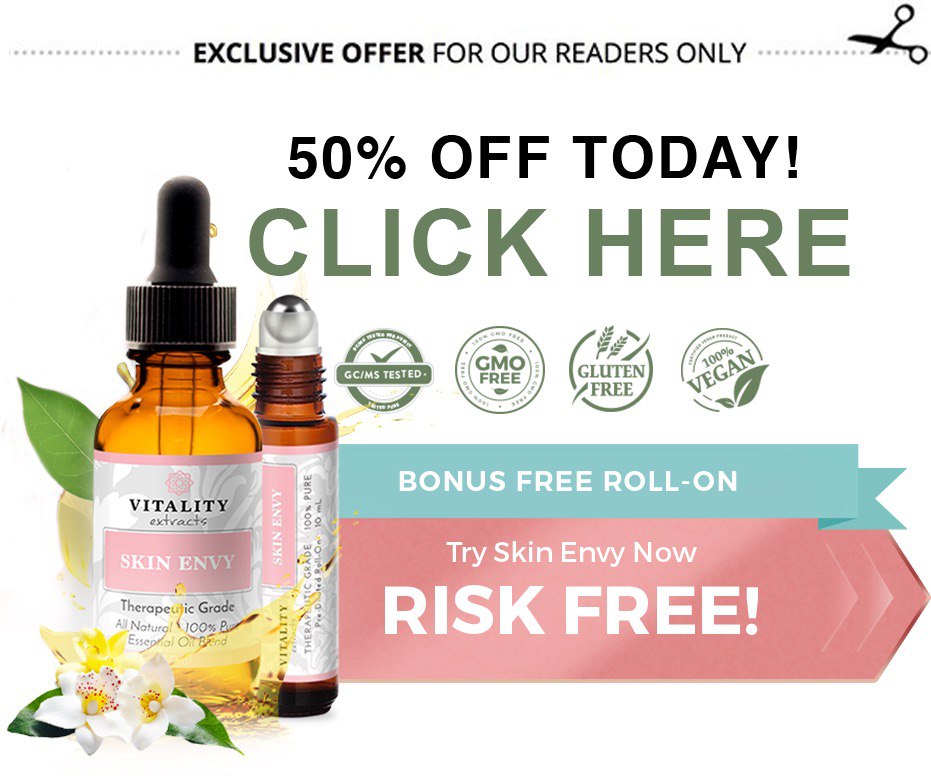 UPDATE: These are selling out fast. The company is currently shipping these within 24 hours while in stock. They have several free bonus bottles left, but they mentioned that once those run out, the promotion will end. If you want to try this out for yourself, now is the time before this amazing deal expires. Its risk-free so you have nothing to lose!