Like many women in their late 40s, Catherine Taylor suffers from migraines. In fact, over 40 million people in the U.S. report to suffering from at least one migraine attack per month. But even with millions suffering from migraines daily, there remains no cure and we don't even know the cause.
When these sporadic, throbbing, nausea-inducing migraines strike, they leave Catherine in severe pain, unable to care for her family, do her work, or sometimes even open her eyes for hours at a time. In a sense, they leave her paralyzed. Correction: They used to leave her paralyzed, but not anymore!
As any wife and mother will admit, a woman's job is never put on pause—migraine or no migraine. Yet, when these unpredictable, recurring, headaches occur, they are intense.  Catherine's migraines would leave her sensitive to light and sound. She had no choice but to enter a dark room, place a cool washcloth on her face, lie still, and pray for relief.
That was until her doctor told her about Migraine Care, a powerful plant-based relief for even the strongest, most painful migraines.
Catherine Taylor's Story
"My migraines made me so sick and dizzy, I was afraid to move even the slightest bit."
The symptoms of Catherine's migraines were extreme, affecting her personal, professional, and social life. Without warning, Catherine would feel a horrendous amount of pain, often at one side of her head. Her vision would become blurry, and there would be such a deep feeling of pressure as if an invisible force was trying to push her left eye out of its socket.
Along with the pain came a loss of balance, terrible nausea, vomiting—she was at a complete loss.
Unfortunately, because migraines can't be seen, there is a stigma surrounding them. Though Catherine's migraines were very much real, she'd constantly feel alone, embarrassed, and helpless every time one struck. She'd even been accused of "faking" migraines at work.
With no real relief available, Catherine had no choice but to deal with it alone.
Catherine revealed to me that she tried everything she could get her hands on to "cure" her migraines: Ibuprofen, Aspirin, Excedrin, Tylenol—but these over-the-counter solutions barely helped a mild headache; they were no match for the intense, pulsating, and crushing pressure of a migraine.
She refused to take prescription pain pills in fear of forming a habit. There was also no way she could fully do her job or care for her family with these sedative pills in her system. Her friend told her just to avoid stressful situations, but as a wife, mother, and career woman, how realistic was that advice?
Catherine was at her wit's end. She had no options left except to simply live with her migraines. But how could she live with migraines? Her marriage was suffering, her children didn't understand, and her boss was losing patience. She was miserable, constantly walking on eggshells, praying that a migraine wouldn't attack.
Finally, she learned about Migraine Care from her doctor. Now, she doesn't worry about migraines, now she is prepared for them.
What Is Migraine Care?
Migraine Care is a 100% pure, therapeutic grade, essential oil blend designed to prevent and relieve symptoms of the most powerful and painful migraines.
Carefully crafted with just 5, soothing, all-natural, pain-relieving plant extracts, there is nothing quite as safe, potent, fast acting, or effective on the market today. These 5 ingredients have been expertly chosen due to each one's own strong ability to attack the suffocating and throbbing features associated with the worst migraines.
Peppermint oil is made up of 44% menthol, which is known to lessen the intensity of acute migraines. This essential oil provides powerful relief from muscle tension and helps to control blood flow. It also fights nausea, stress, congestion, and muscle pain—all common symptoms of migraines. Peppermint oil calms the mind, takes the edge off anxiety, and even reduces inflammation.
Ginger oil is loaded with anti-inflammatory and anti-nausea properties. This essential oil soothes an upset stomach and is known to fight nausea and vomiting. It also works against swelling, pain and discomfort, anxiousness, depression, exhaustion, and soreness—all of which frequently occur when a migraine strikes. Ginger oil provides relief for muscle aches and reduces prostaglandins in the body, which are compounds associated with pain.
Spanish sage oil supports brain health, offering a calming aroma that has been known to relieve both headaches and migraines. It calms the body and mind, and even works against nervous tension and depression. Spanish sage oil is often used in aromatherapy and stress-related conditions, as it stimulates the mind and addresses mental fatigue. It also reduces inflammation and assists with mood swings and nausea.
Cardamom oil improves the body's circulation, a common cause for head pain. Stacked with anti-inflammatory properties, this essential oil fights stress, soothes nausea and reduces muscle spasms. Cardamom oil is a vital component for overall health, as it helps with high blood pressure, improves breathing and oxygen use, and prevent anxious behavior.
Sweet fennel oil contains antioxidants and preventing spasms in the body. It provides mental stimulation, clarity, and focus. This essential oil soothes muscle soreness and is known for its relaxing effect on the nerves. It offers immense relief from restlessness, hypertension, headaches, dizziness, fatigue and mood swings. Sweet fennel oil stimulates the brain, all neural activity, and the nervous system.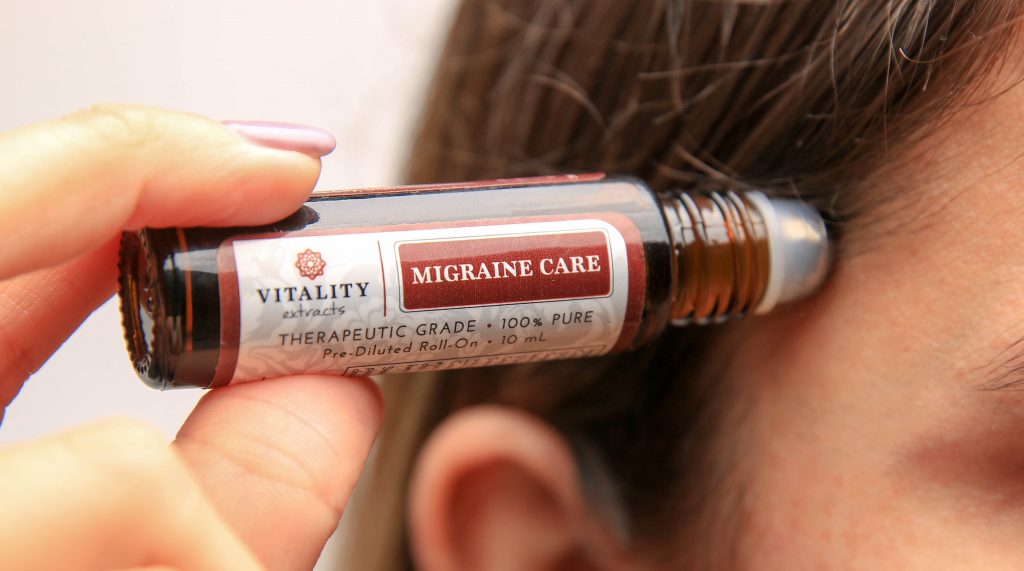 How To Use Migraine Care
Apply Migraine Care
Individuals can topically apply Migraine Care for immediate relief—it's safe, quick, and simple. Use the roll-on bottle (free with purchase) to directly apply the solution to the forehead and temples, behind the ears, and along the back of the neck when a migraine strikes. Conveniently keep a bottle at home, in the car, office, or in a purse or briefcase. It's even TSA-approved, so feel comfortable traveling with it.
Diffuse Migraine Care
Migraine Care can be diffused throughout the home or office—it's safe for the whole family, including pets. Just diffuse 10 drops of Migraine Care per 100ml of water to quickly experience the pain-relieving benefits of the solution. For an even more therapeutic regime, double the amount of oil, or add a few drops into a warm bath for relaxation.
Migraine Care relieves migraines, soothes aches and pains, reduces muscle spasms, and helps with nausea. But don't just take Catherine's word for it—see what others are saying about this one-of-a-kind product!
Real People. Real Relief.

---

---

Is Migraine Care Guaranteed To Work For Everyone?
Yes. There's a 60-day, 100% risk-free, money-back guarantee. Returns are easy and customer service is great!
Is Shipping Free?
Yes. You get free shipping and a FREE ROLL-ON bottle with this current promotion.

Where To Get Migraine Care?
Migraine Care can only be purchased from its manufacturer. With more and more doctors turning their patients on to Migraine Care, its popularity has skyrocketed and the company has had a hard time keeping it in stock.
Currently the company is running a 50% discount and BOGO promotion: Buy one 30 ml bottle of Migraine Care, get one FREE ROLL-ON bottle (limit 3 free roll-on bottles per transaction). This is an exclusive, limited time offer and can't be found anywhere else. Don't miss out! Just click this link or the coupon below.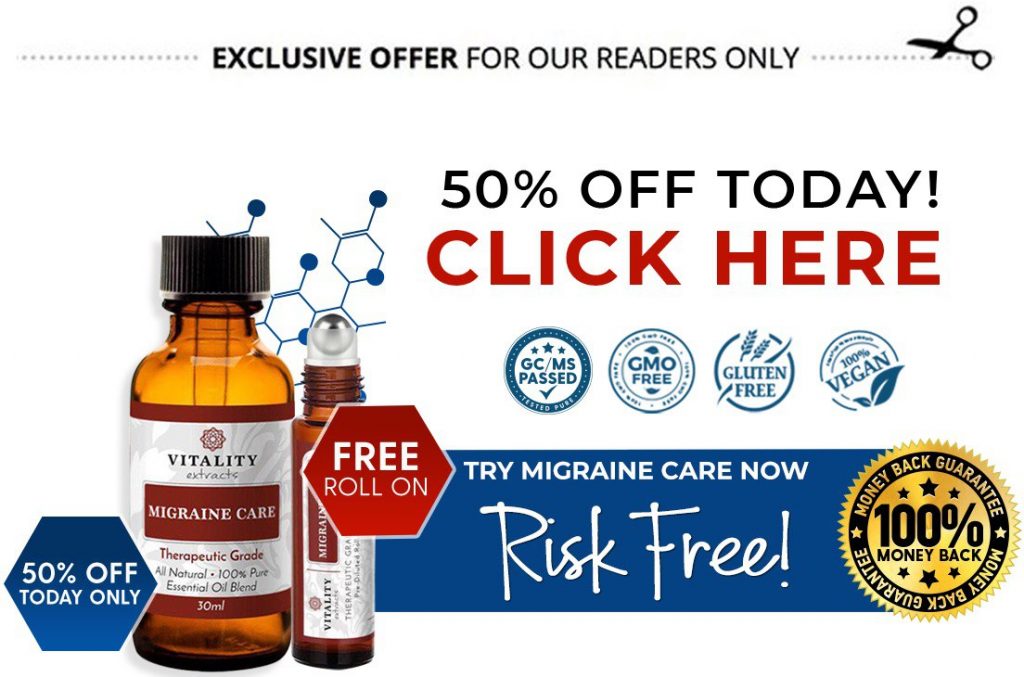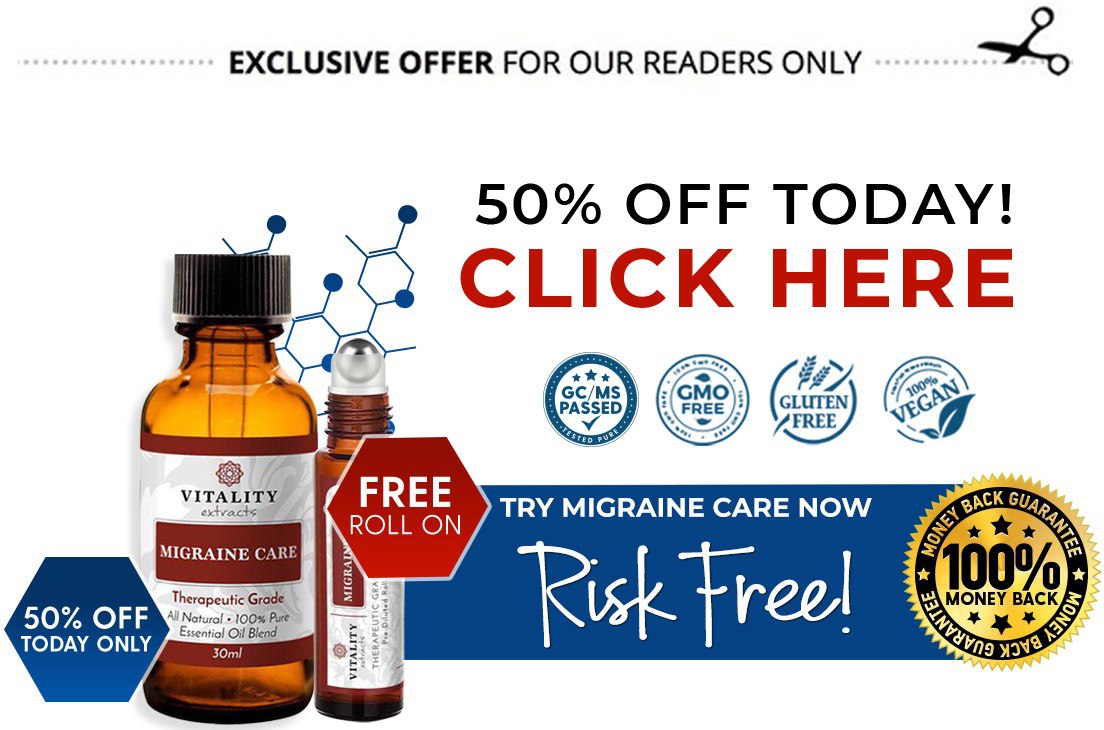 ---