We're exposing the truth behind groundbreaking plant extracts that Big Pharma is trying to cover up. A century's old sleep remedy is pure, 100% natural, and non-habit forming. With such positively overwhelming evidence and media attention, it's a wonder why more people aren't getting 8, uninterrupted hours of sleep each night with this alternative to addictive, life-threatening pills that can cause grogginess, shortness of breath, headaches, nausea, and even death.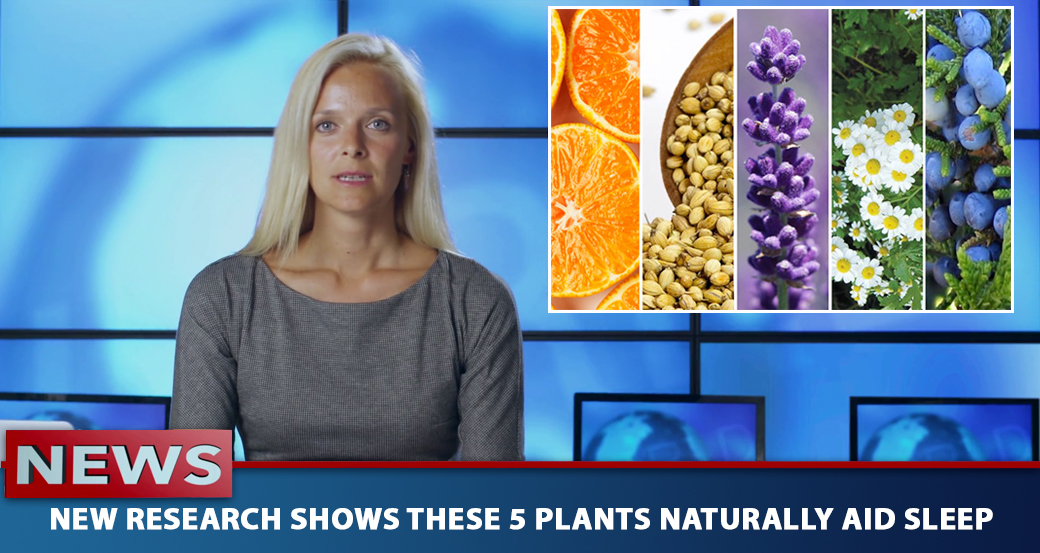 The Future Is Now—The use of a safe, all-natural, non-habit forming alternative to dangerous and addictive sleeping pills is sweeping the nation. People in all professions—from nurses and firefighters to cops and teachers, even stay at home parents—are all using Sweet Dreams to ensure full nights of peaceful, uninterrupted sleep and alert, productive mornings. Presented as an Ambien alternative, no prescription is needed to purchase Sweet Dreams quickly and conveniently online.
Ugly controversy has surrounded Big Pharma for years, and the easy access in which anybody can get their hands on sleeping pills like Ambien or Xanax. A multitude of negative side effects surround these drugs, including sleepwalking, amnesia, loss of balance, cancer, and death.
Conveniently for Big Pharma, the body builds up a tolerance for sleeping pills, quickly requiring more pills, more often. Because of their addictive nature, Big Pharma makes BIG money at the expense of the user's health, often resulting in long-term fatigue, depression, and addiction.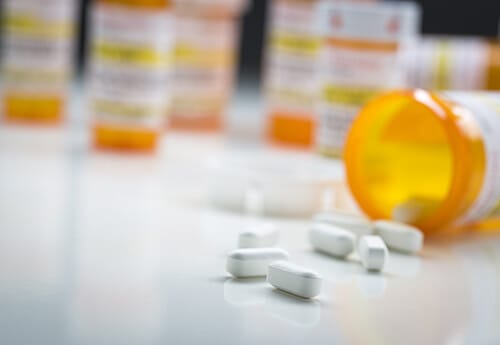 Recently, scientists have re-shared facts that have been around for hundreds of years; medicinal plants are a safe, natural, and highly effective at inducing deep, uninterrupted sleep. The pharmaceutical industry doesn't want you to know this; they can't mass produce or make money off of plant extracts that are found and farmed in their native environments. These aren't chemical compounds that can be produced in a laboratory.
Thanks to recent research, scientists and doctors have found the best medicinal plants to promote natural, deep sleep. The extract oils of orange, juniper berry lavender, German chamomile, and coriander seed, when perfectly balanced and proportioned, are a potent sleep aid without any nasty side effects.
Orange oil offers a sweet, therapeutic aroma that relieves muscle spasms and anxiety. Juniper berry oil prevents the mind from racing and fights against mental exhaustion, tension, and chronic fatigue. Lavender oil slows the heartbeat, reduces stress, and is loaded with sedative properties to promote relaxation. German chamomile oil induces sedation, reduces inflammation and anxiety, and causes drowsiness. Coriander seed oil is a natural muscle relaxer and gently lulls the mind and body into tranquility.
When carefully blended into one powerful, convenient, and easy to use remedy, these 5, all-natural ingredients are unbelievably effective at promoting a night of safe, deep sleep.
See what others are saying about Sweet Dreams:

---

---
We gave Sweet Dreams a try ourselves—Is it worth all the buzz?
With so much high praise from the media and countless reviews from real people experiencing success with Sweet Dreams, we decided to test whether or not it was worth all the buzz. And while we had several volunteers who offered to try the product, we ultimately chose the CEO's assistant, Kim Kodak. Below is her account of using Sweet Dreams over a 4-week period.
My Results—4 Weeks with Sweet Dreams
Week One
Buying Sweet Dreams proved to be much harder than expected. It was completely SOLD OUT on the manufacturer's website—the only place to purchase it. Finally, after waiting 2 long weeks for it to be restocked, I got lucky and secured a bottle at a 50% discount. I even received a free-roll on bottle of Sweet Dreams with my purchase through a special promotion, (there is a link to this promotion below).
About 20 minutes after diffusing just a few drops of Sweet Dreams in my bedroom and then using the roll-on bottle to apply the solution directly to my body (temples, neck, wrists) the effects began to settle in.
My entire body felt at ease. My mind cleared and felt at ease; for the first time in memory, my brain actually shut off. I could not believe it! I fell into a deep sleep and stayed that way, safely and soundly, for a full 8 hours. In the morning, I was wide awake, alert, and had more than enough energy to conquer the day ahead of me. Best of all, there were no negative side effects, like grogginess, which I always experienced with sleeping pills.
Week Two
I was a bit concerned that Sweet Dreams would stop working for me after one week, or that I would require more of the solution for the same successful results—much like with Ambien and Xanax. Neither is true. At night, I am feeling even calmer, more relaxed, and at complete peace. I didn't have to change anything about my routine to reach this state, either. No crazy exercises or workout routines. No alterations to my diet; no doctor's visits or expensive and addictive pills.
I had to travel this week for work and was concerned that I wouldn't be able to sleep in a strange hotel room. But Sweet Dreams is perfect to travel with—it's even TSA-approved. While it's best to both diffuse and use the roll-on bottle, the roll-on is a complete asset when traveling and can work on its own. I directly applied the roller top to my skin, moving it in a small, circular motion over my temples, neck, and wrists. I almost immediately drifted off into a long, tranquil sleep.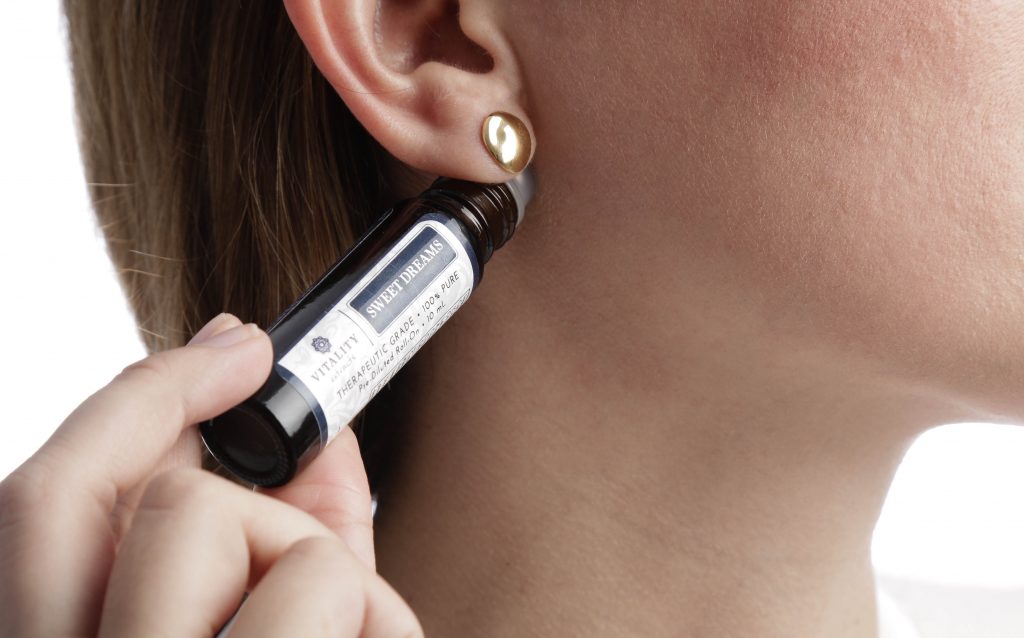 Week Three
I'm pleased to report that Sweet Dreams is still calming, powerful, and effective. I am shocked at how productive my days are now that I don't wake up feeling groggy or completely exhausted. I'm laser-focused on the job at hand and even noticed I rarely yawn throughout the day. I have more energy and stamina. It's as if my brain has been rebooted and given the recharge needed to restore healthy sleeping patterns, as well as high levels of attention and focus.
At night, anytime I felt as if my brain was wired like I'd just drank an entire pot of coffee, I'd just diffuse three to five drops of Sweet Dreams per 100 ml of water and then use the roll-on to roll the solution onto my body. It seemed almost instantly my mind would calm, my body would relax, and I'd drift off into a heavenly sleep.
Week Four
My co-workers have noticed how productive and positive I've been at work, that I've even taken on more responsibilities. They all want to know my "secret." I give all of the credit to Sweet Dreams. The blend of these 100% pure, all-natural, therapeutic-grade oils has worked as well this week as it had in the first three weeks.
My body is entirely rested, my mind clear, and I'm able to get through the full work day without feelings of exhaustion, frustration, or grogginess. It's literally unbelievable how much has changed in just 4 short weeks. Sweet Dreams has definitely made my life easier, calmer, and more enjoyable.
In conclusion: Over the past four weeks, I found myself getting a solid and peaceful 8 hours of sleep each night, allowing me to feel rejuvenated every morning. I had more energy than ever before, and as a result, was able to spend more time with family and friends outside of work. Since using Sweet Dreams, I never lie awake at night. Almost as soon as my head hits the pillow, I'm out.
One thing I didn't expect was my enhanced uplift in mood, now that I'm able to fully rest and wind down in the evenings. Because Sweet Dreams has allowed me to sleep again—and sleep well—I enjoy my life so much more. My boss even recently gave me a raise and promotion due to my good attitude and high energy levels.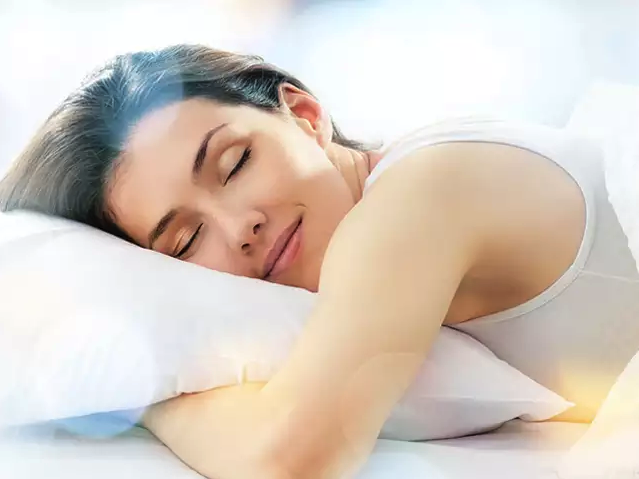 I tried so many sleeping pills in the past—Ambien, Xanax, Valium. All promised to "cure" my insomnia, but none of them ever succeeded. Sweet Dreams is far more safe and effective. There are no negative side effects, habit-forming qualities, synthetics, additives, or toxic chemicals. Don't just take my word for it, though—experience the miracle of Sweet Dreams yourself!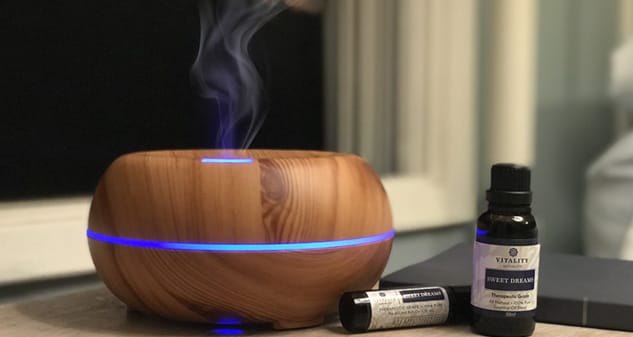 How To Use Sweet Dreams
Using Sweet Dreams is simple. At bedtime, diffuse a few drops in your room. Then, right before getting into bed, use the free roll-on bottle to swiftly apply the solution to your skin. After you directly apply Sweet Dreams to your temples, wrists, and feet, you will instantly feel calm, your body light, and drift into a deep slumber.
For the best results, you want to use both methods of Sweet Dreams: diffuse and topically apply the solution to your body. You will experience a deep, peaceful sleep almost immediately.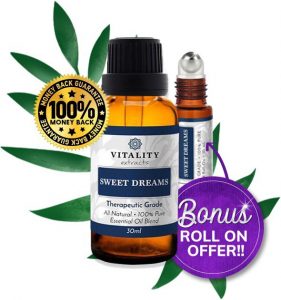 Is Sweet Dreams Guaranteed To Work For Everyone?
Yes! Sweet Dreams comes with a money-back, 100% risk-free satisfaction guarantee. You have nothing to lose!
Is Shipping Free?
Yes. You get free shipping and a FREE ROLL-ON bottle with this current promotion.
Get Sweet Dreams Today—Don't Miss This Special Promotion
You can only purchase Sweet Dreams directly from the manufacturer. Today they are running a 50% discount and FREE BONUS BOTTLE promotion: You'll save 50% and get a free roll-on bottle for every bottle you buy today (but they limit you to 3 free bottles per transaction).
If you want this amazing sleep remedy at this once-in-a-lifetime price, you have to hurry! Sweet Dreams sells out quickly, and keeping it in stock has proven to be difficult. Ordering is fast and easy, and they ship within 24 hours. Just click this link or the coupon below.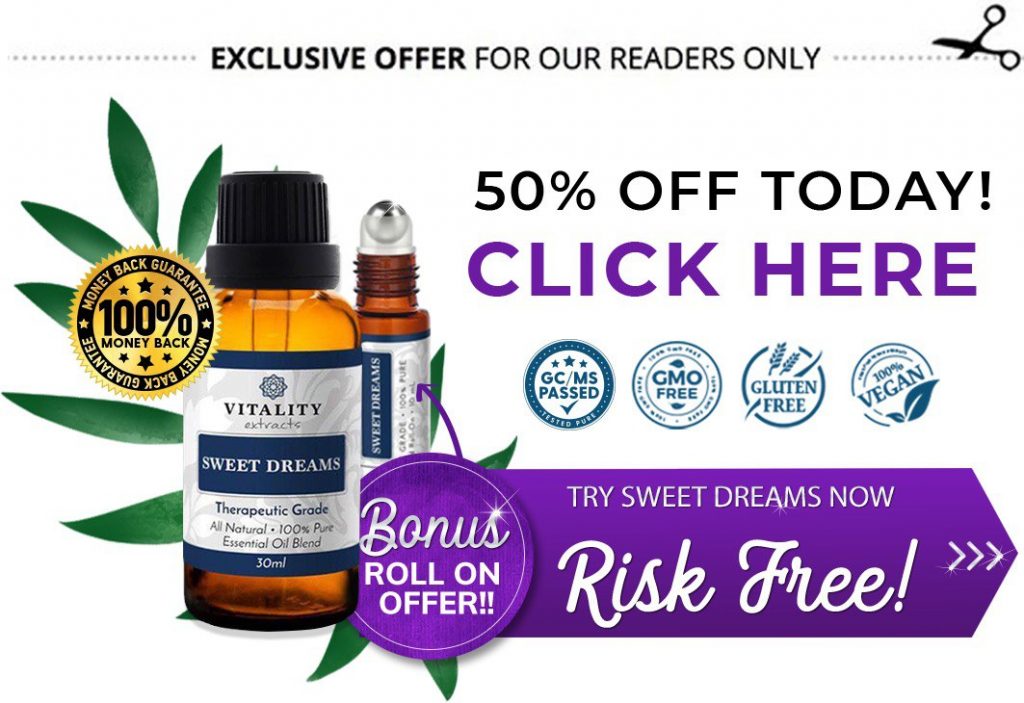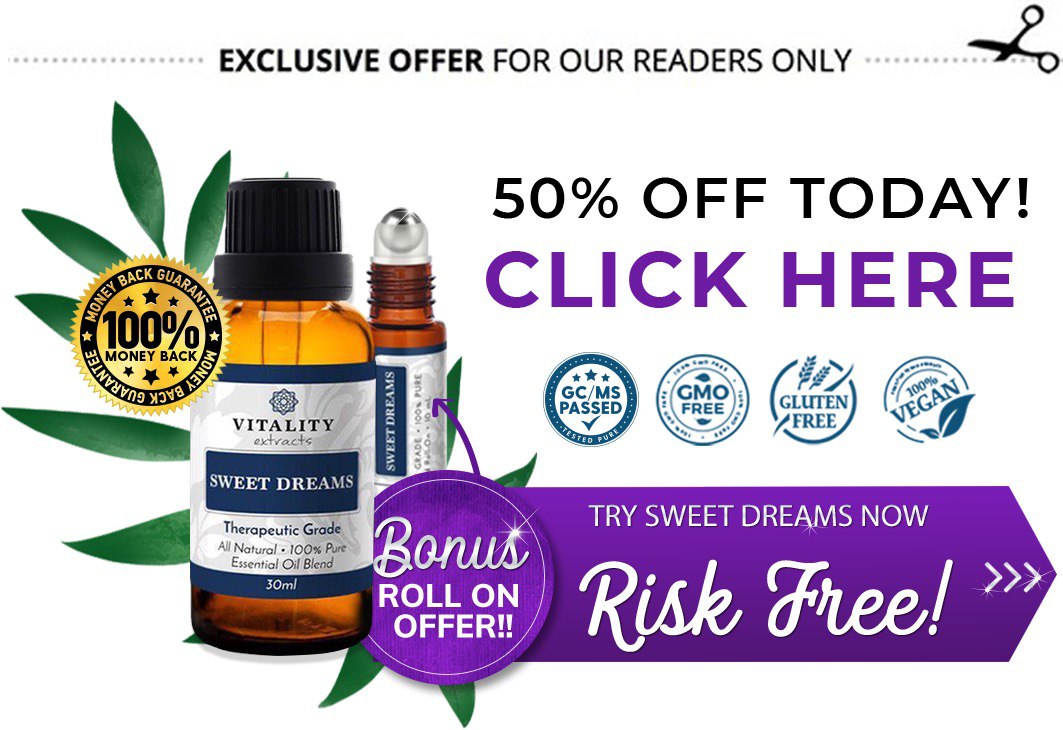 Note: As of TODAY, bottles of Sweet Dreams are currently in stock! But they are running out fast—don't miss your chance to get the best night's sleep of your life!