"I'll be RIGHT BACK, I promise. I'm just going to the store."
I don't know why I would always tell that to Maggie, my 9-month old rescue Lab mix. It's not like she understood me. Yet every time I had to go run an errand, that's exactly what I told her.
"You're so lucky, Maggie: most dogs have to stay home alone all day. Count your lucky stars I can work from home," I added for emphasis, hoping Maggie would magically get what I'm saying.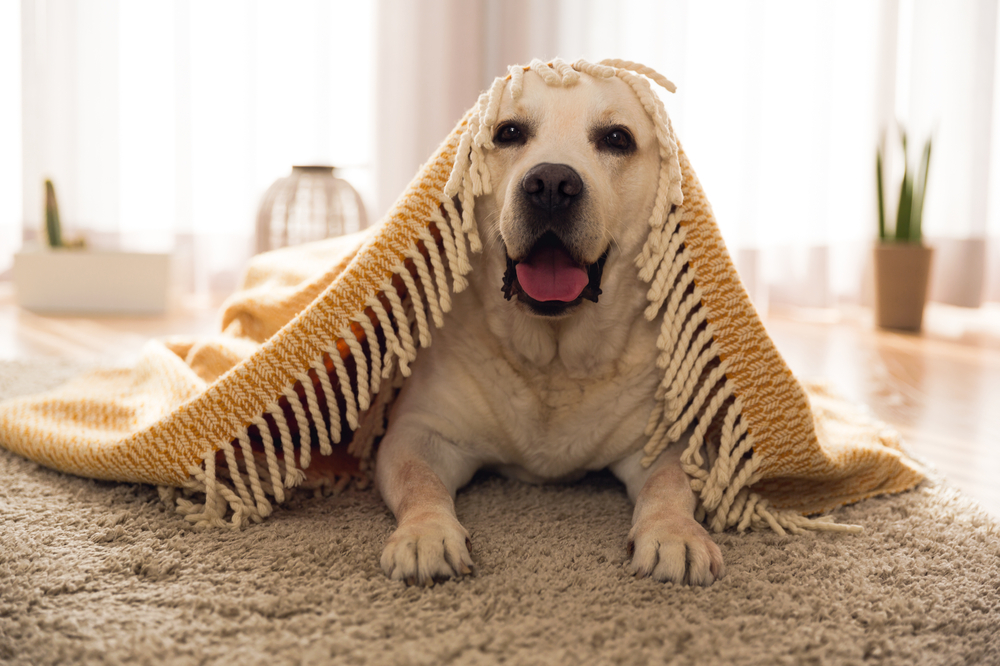 But as soon as I shut the door behind me, it was obvious that Maggie didn't understand. Actually, her whimpering began as soon as I grabbed the keys. By the time I opened my car door, the whimpering got worse, sounding more like a howl. I couldn't help but feel a whirlwind of stress & emotions.
Guilt. Responsibility. Helplessness.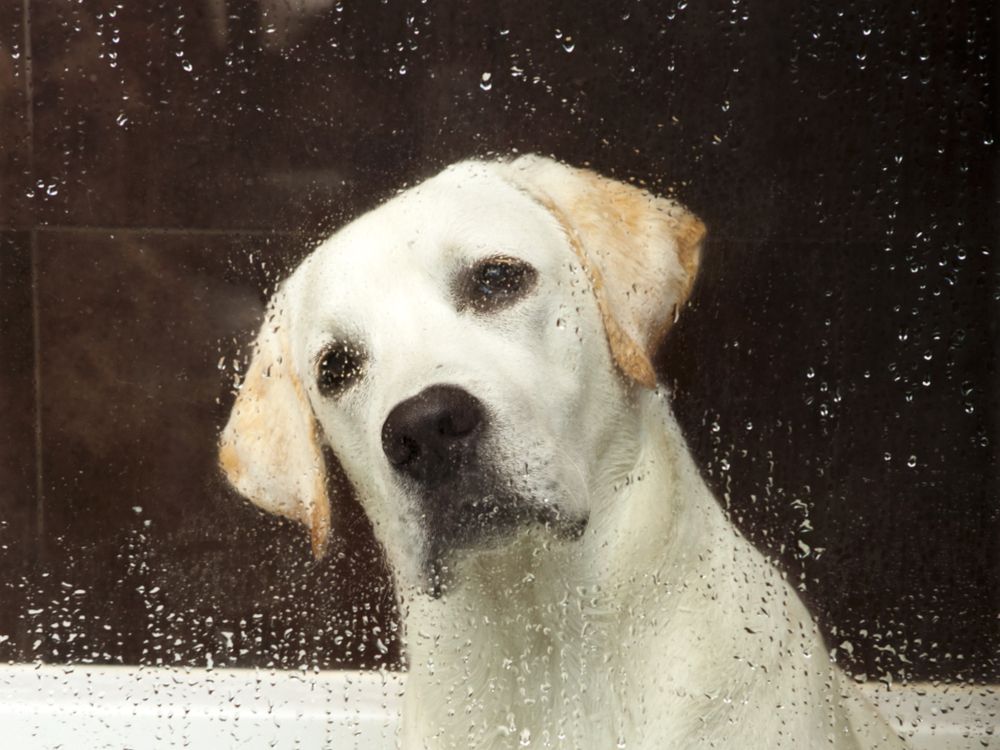 After nearly getting into an accident because I was in such a rush to get home and back to Maggie, I decided I needed to do something about her anxiety. So I called my vet. I told my vet I didn't want to give Maggie any medication for fear of side effects. That's when my vet told me about an all-natural remedy for separation anxiety called Peaceful Pup.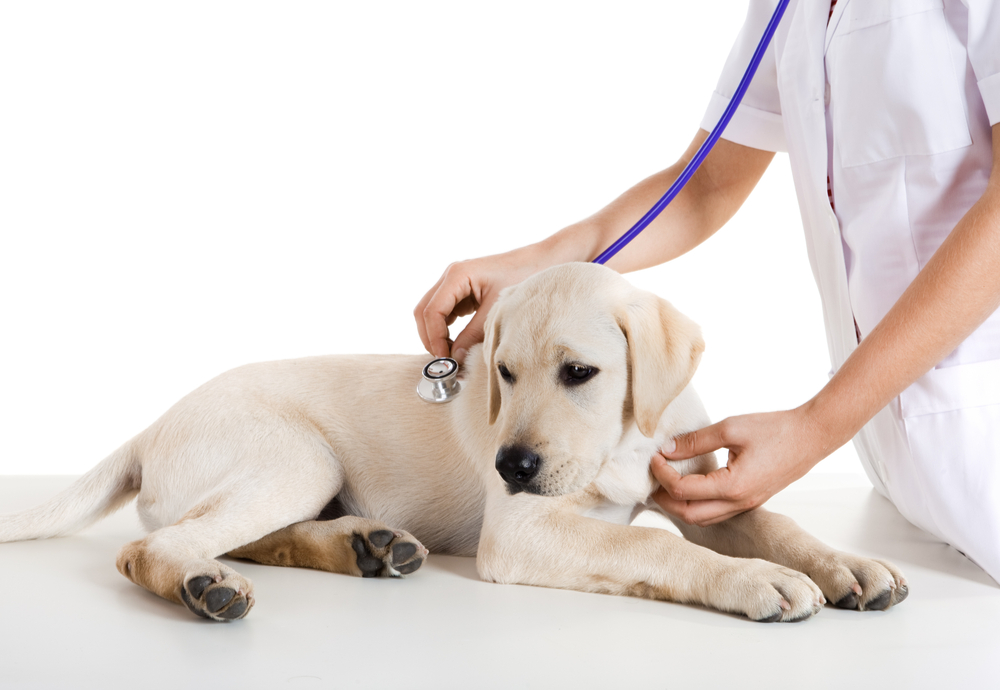 Anxiety In Dogs Is Common—But Far From Normal
Peaceful Pup works instantly. The first time I used it was right before going to a dance class at the YMCA. The class is 90 minutes. Throw in socializing after the class plus showering and changing and that's over two hours alone for Maggie. (For her, every minute alone probably seems like eternity.)
I was amazed at the results. When I left to go the class, Maggie was very calm. And amazingly when I got home, she was still quiet and happy.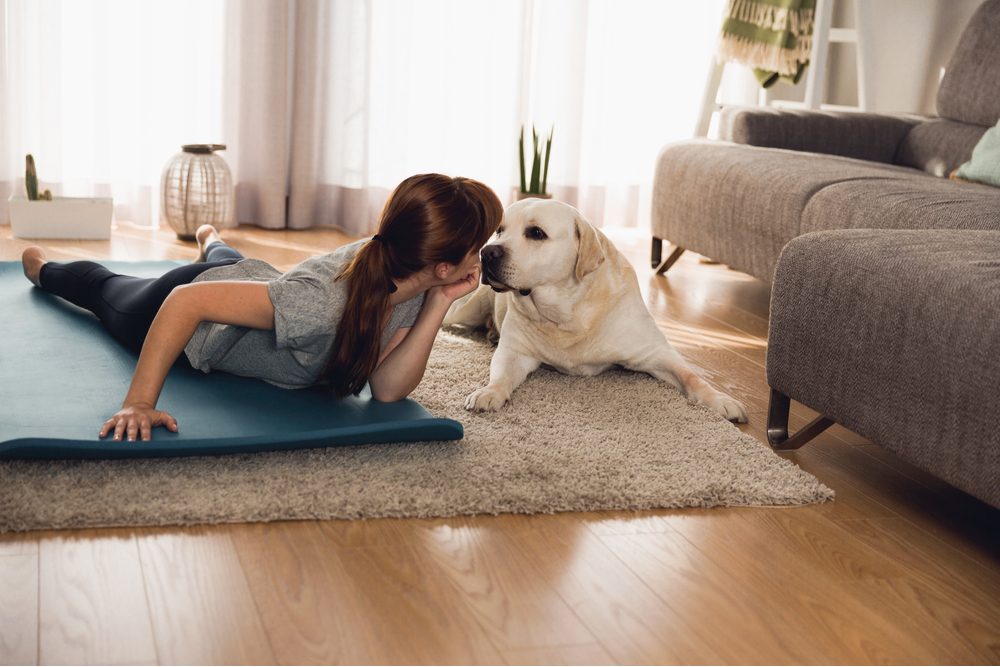 Here's how I use Peaceful Pup: about 20 minutes before I have to leave, I take the aromatherapy bottle Peaceful Pup comes in and pour a few drops into a diffuser.
Then, right before I grab my keys, I apply the roll-on bottle of Peaceful Pup to the back of Maggie's neck and along her spine. I also do the same routine in the morning and just before bed.
Within just a couple minutes of using Peaceful Pup, Maggie is noticeably more relaxed. She just stares out the window, oblivious to my coming and going. Her tail no longer droops in between her legs. She is completely silent; not the slightest of whimpers do I hear from her.
Before I started using Peaceful Pup, Maggie would start feeling agitated before I left for class. She could tell that I was getting ready to leave. With me bouncing from the bedroom dresser to the bathroom and to the kitchen, she could tell something was up. Maggie would pace back and forth, following me like, well, a puppy.
But now, when I get back from the class, Maggie doesn't jump all over me. I actually loved it when Maggie used to jump up on me when I got back home. But the fact that she isn't overly excited to see me proves that she remains calm the whole time I am gone.
You know, dogs experience separation anxiety in much the same way that humans do. I'm so grateful for Peaceful Pup (and for my vet who recommended it).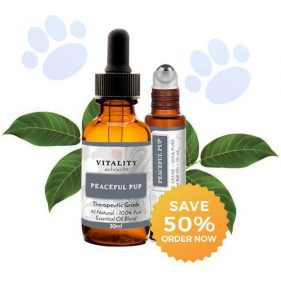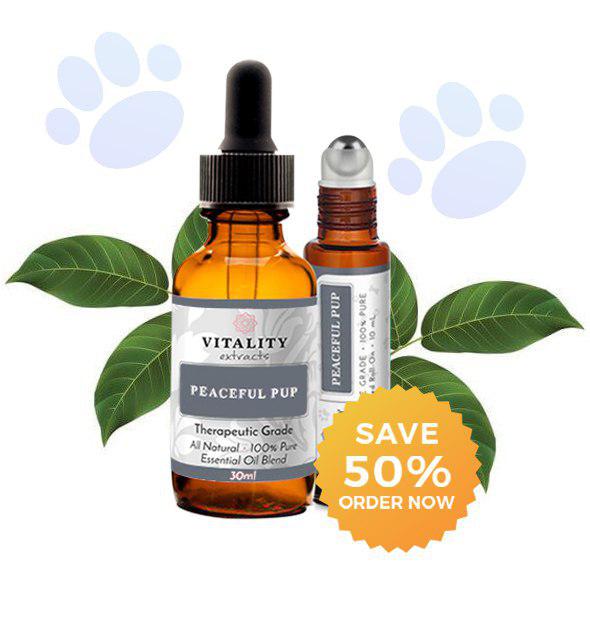 What Is Peaceful Pup?
Peaceful Pup is a 100% pure blend of 7 essential oils, all of which are backed by research studies to relieve anxiety and contain sedative-like properties.
Many veterinarians consider aromatherapy to be the most practical remedy for canine separation anxiety because essential oils contain no toxic chemicals and do not cause side effects.
Consider lavender oil. In one study on dogs, the dogs exposed to diffused lavender oil  spent significantly more time resting and sitting and less time moving and vocalizing.
Chamomile oil is also very effective. The Veterinary Centers of America states on its website that chamomile provides muscle-relaxing effects in a variety of common small animal disorders.
Geranium oil also has compounds that produce significant anti-anxiety and antidepressant activity, as demonstrated in several animal studies. Frankincense oil not only has been shown in research to have a tranquilizing effect, aromatherapists use it as a therapeutic remedy for abandonment.
A couple more oils that are especially effective for relieving anxiety in dogs are cypress and lemon. Both have powerful sedative effects with no hangover feeling; they induce a sense of calmness and relaxation when used aromatically or topically. If your dog suffers from anxiety in situations other than being left alone, such as thunderstorms and loud noises, both of these oils create a sensation of serenity.
Finally, one more oil that's also been proven to have a calming effect on pets is sweet almond oil. According to a study in Biomedical Research, treatment with almond oil demonstrates it works like an anti-depressant in the animals it was studied on.
Peaceful Pup combines all these highly effective oils into one easy to use, calming blend. Completely safe for all breeds and all ages of dogs, Peaceful Pup comes with a 100% satisfaction guarantee.
After my vet told me about Peaceful Pup, I read the customer reviews. Many of them described unbelievable behavioral transformations, like this one from Vicky Veer:
"Oh my goodness, this really works. Our big tough pitty girl Kona has always been terrified, I mean terrified of thunderstorms!!! For six years she was terrified and now because of Peaceful Pup she acts like she doesn't even notice the thunder and lightning. I'm so glad I purchased this oil."
How Do You Order Peaceful Pup?
I was running low on Peaceful Pup for Maggie, and when I went to order more, I was excited to see that for TODAY ONLY, there's a special sale for 50% OFF. You also get a FREE roll-on bottle with each aromatherapy bottle you buy! (This offer wasn't around when I ordered last time so I suggest you take advantage of this promo now.)
I just checked the inventory on the Peaceful Pup website and it says there are only a few free roll-on bottles left. So act now before it's sold out. Shipping is also free through today's special promotion! And with a 60-day money back guarantee, you've got nothing to lose—and your pet's well-being to gain. After all, a happy dog makes for a happy home.
Just click this link or the coupon below to get todays limited time offer!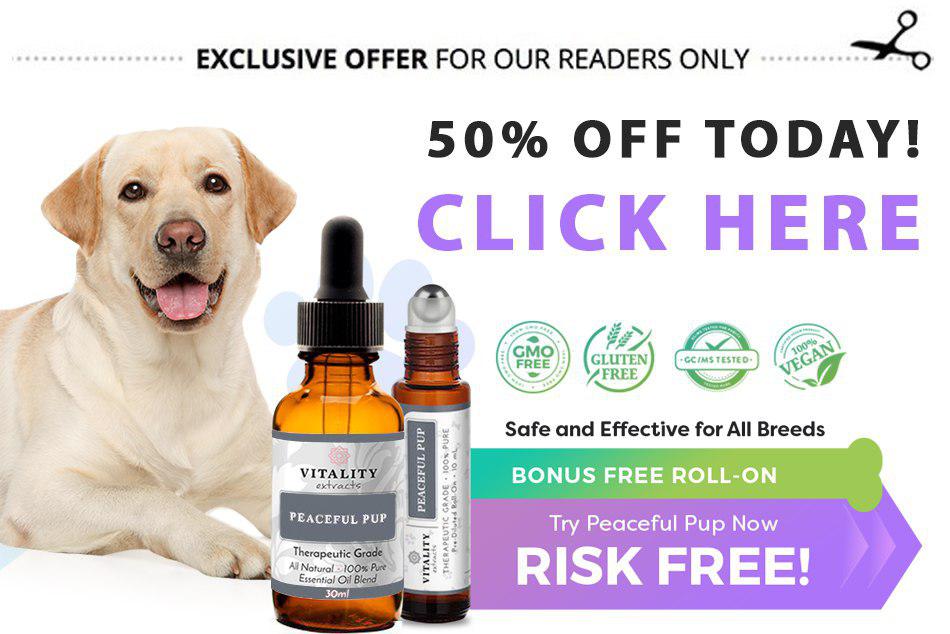 ---
*This is a one time purchase with no hidden additional cost, subscriptions or obligations.