Your scalp is like an organ of its own and, as such, requires the same attention as the rest of your body.  The truth is, hair texture changes over time, and our products need to as well.
We developed Hair Envy under the belief that our bodies have regenerative abilities and, with the right mix of nutrients; we can help support the restorative process.  
Before we jump into application techniques lets walk through a few product fundamentals.
The Scent
Just how clothes aren't one size fits all, the same can be said for the Hair Envy scent.  There are customers who absolutely adore the smell of Hair Envy and others who are less enthused, but the key factor is — this isn't a leave-in treatment.  It's meant to be rinsed out; which means the scent is only with you during application. 
The Bottle
We package all our essential oils in an amber bottle, not to keep you guessing, but because amber bottles filter out UV rays.  That means your oils are properly preserved for longevity and maximum use. We also include a convenient dropper top making application a cinch and mess-free. 
What to Expect
Lasting results take time.  Hair Envy is not an overnight fix.  Your body needs time to absorb the nutrients from each of the 15 infused oils; which means it requires ongoing use.  Our customers typically start to see results within 60-90 days when consistently applied 3-4 times per week.
How to Use Hair Envy
Scalp Treatment:
Fill your dropper top with the Hair Envy oil blend

Either place 5-10 drops of oil onto your fingertips or directly to the scalp 

Begin to lightly massage the oil into the scalp in a circular motion allowing the oil to absorb for about 5 minutes

Wash hair as normal with shampoo 
Hair Treatment:
Fill your dropper top with the Hair Envy oil blend

Place 5-10 drops of oil into the palm of your hand

Add your favorite conditioner and blend with oil

Coat your hair with conditioner; ensuring the tips of the hair are coated

Rinse out as normal
Finish Your Style:
To boost your hair's volume, replace your conditioner by using a few drops of Hair Envy on dry or damp hair.

Place 1-2 drops of oil into the palm of your hand

Run your hands over the ends of your hair.

Then, smooth over the top of hair to grab any fine hairs and keep them in place.
Pro Tips:
A little goes a long way- do not saturate hair. 

Apply to wet or dry hair

Leave in after application or wash out depending on your personal preference and/or hair type. 

For best results, use 3-4 times a week 

Great for both men and women with all types of hair, even color-treated hair! 
We infuse each bottle with 15 different essential oils but, more importantly, they are blended at a precise ratio to maximize their benefit.  To ensure purity and potency, we only source ingredients from their native geographic locations.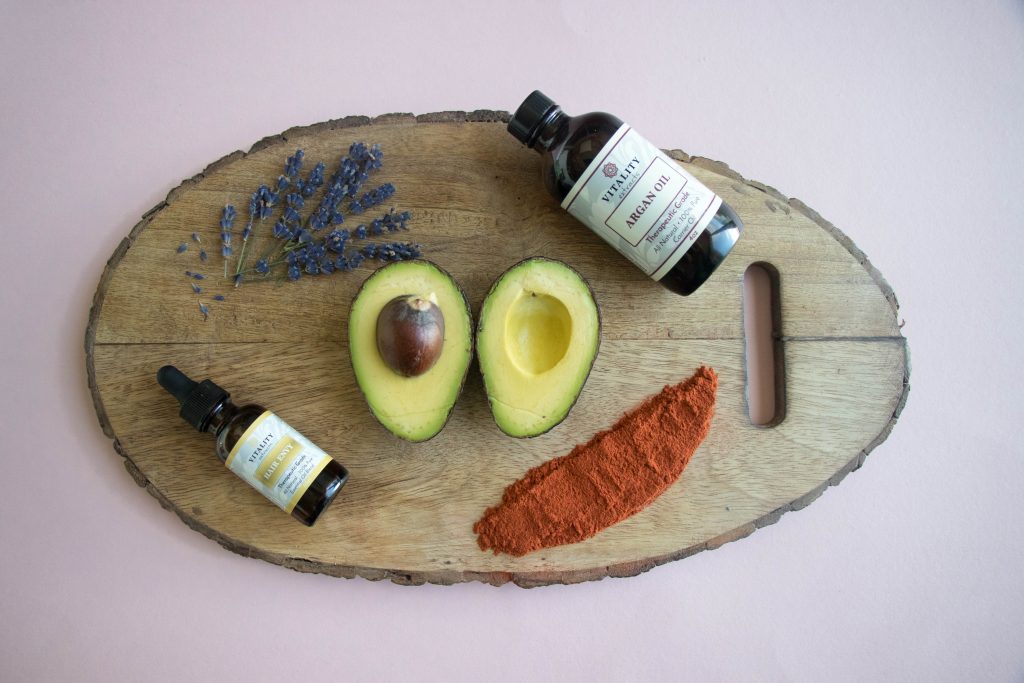 To help you understand more about Hair Envy's unique blend, here are our top five ingredients and their healing properties:
Amla:  
Amla oil, which we source from India, is a natural remedy prepared from the fruit of the Indian gooseberry tree and is very high in vitamin C.  We chose Amla for its scalp, strengthening properties of stimulating growth and reducing premature greying.
Argan:
Argan oil, sourced from Morocco, is also known as "liquid gold".  It's made from the fresh kernels of the fruit of the Argan tree and has been used for centuries as a home remedy for hair loss because it is rich in vitamin E.  It also happens to boost hair shine and prevent damage from styling.  
Geranium:
Geranium oil, sourced from Egypt, has been used to promote hair growth by nourishing the scalp and supporting your body in the production of natural oils.  It is known for refreshing, conditioning, and stimulating the scalp and follicles, leaving hair feeling and looking softer and more lustrous.
Lavender:
Lavender, which we source from Bulgaria, is made directly from the lavender plant and, per recent studies, may help with issues like pattern baldness or alopecia.  Lavender also has antimicrobial properties, which means it helps prevent bacteria and fungi from growing. 
Jojoba:
Jojoba oil, sourced from Israel, is an oil-like wax extracted from the seeds of the jojoba plant and rich in vitamin C, B, E, copper, and zinc.  Due to its oily composition, the jojoba oil can be used as a hair moisturizer to give added protection against dryness, breakage, and split ends.
These are just 5 of the 15 oils found in Hair Envy—all natural with no harmful synthetics, no petroleum byproducts, or hormonal disruption! What's even more impressive is that each ingredient has been proven to help restore the health of hair and that's why our customers, with consistent use, get lasting results. 
So, whether you're looking to stimulate hair growth, improve hair texture, or alleviate a dry, itchy scalp, Hair Envy is the only essential oil blend that can do all of those things with just one product.