Romans 12:2 tells us not to conform to the pattern of this world, and instead, to be transformed by the renewing of your mind. "Then you will be able to test and approve what God's will is—His good, pleasing and perfect will."
But when my friends from church talk about Botox, foundations, concealers, volumizers, moisturizers, eye creams, definers, blushes and other things that are supposed to make you look younger, how am I not supposed to conform? How am I supposed to ignore what I see when I look at myself in the mirror: the wrinkles, fine lines, crows feet, and sun spots?
At night while getting ready for bed, or in the morning while getting ready for work, I sit in front of my vanity, mindful of Psalm 92:14 — "Even in old age they will still produce fruit; they will remain vital and green."
I don't think of myself as old and I certainly don't feel old. But the mirror doesn't lie. My skin makes me look like I'm about a decade older than my true age. Ruth 4:15 assures us that "He will renew your life and sustain you in your old age," however, Proverbs 31:30 teaches us that beauty is vain.
So what's a Christian woman to do about her premature aged skin? Ignore it and just trust in the Lord's plan for me? Is there nothing I can do without falling prey to Satan's lure of vanity? I was feeling confused, conflicted, and desperate to do something … but I wasn't willing to do anything that I felt would conflict with my devotion to my Lord and Saviour.
Scripture Has The Answer for Younger Looking Skin
As I've done for over the last 25 years, I turned to my pastor for guidance. My pastor told me that the Good Book has the answers to all of life's problems, even remedies for more youthful-looking skin. My pastor suggested I research essential oils of the Bible.
The answer was so simple—yet it was like a revelation. Of course! Essential oils of plants. My pastor told me more and more Christians are turning to essential oils for a wide variety of ailments. We've put too much faith in pharmaceutical labs and big, faceless for-profit corporations. My pastor put it to me this way: would you rather put your faith in a test tube or in God's great creation?
Although I felt uplifted after talking to my pastor, later that night, I was faced with another problem. There are over 600 references to plants in the Bible. And many of them pertain to using the plants for incense and spiritual purification (anointing oils).
I was no closer to finding a Biblical solution for my skin than before.
Until I found out about an anti-aging serum called "Skin Envy."
100% Pure Therapeutic Grade Essential Oils
When I was researching essential oils of the Bible, I had no idea that the two most arguably famous ones—frankincense and myrrh—would end up helping me look 5 years younger within just a few weeks.
You don't have to be a church-going Christian to know that the three wise men, as recounted in Matthew 2:1-12, bestowed upon Mary and the infant Lord Jesus gifts of gold, frankincense and myrrh.
But what modern research shows us is that both frankincense and myrrh are worth far more than gold when it comes to skin care. Skin Envy contains both of these precious plant oils, and the manufacturer of Skin Envy sources these oils from the Jordan Valley.
Frankincense oil contains a key active ingredient, boswellic acid. Boswellic acid has powerful anti-inflammatory effects. In one study, frankincense oil is shown to protect skin cells and reduce inflammation. It lifts and tightens the epidermis to naturally reverse signs of aging.
Esther 2:12 teaches us a beauty lesson, although it involves unchristian concubines. In this passage, it says that before a young woman's turn came to service Persia's ruler, King Xerxes, she had to complete twelve months of beauty treatments, including six months with oil of myrrh.
Myrrh, as research shows us, can help lessen the effects of acne, boils, cracked skin, cuts, dermatitis, eczema, scars, wounds, and wrinkles. And in one study, myrrh and frankincense used together help increase skin blood flow.
Sandalwood is another plant oil of the Bible. In John 19:38-39, Joseph of Arimathea asks Pontius Pilate for the body of Jesus. Joseph was accompanied by Nicodemus, who brings with him a 75-pound mixture of myrrh and sandalwood. Why so much? To embalm the Lord and Savior! Taking Jesus' body, the two of them wrapped it in accordance with Jewish burial customs. In modern uses, Sandalwood oil has shown to have broad use in dermatology; it's effective for the treatment of acne, psoriasis and eczema, common warts, etc.
Vanilla helps repair the skin barrier, prevents harmful bacteria from forming on your skin and face, and has been shown in research to help heal wounds and reverse skin aging. Vanilla oil protects the body from wear and tear by neutralizing free radicals.
Coconut oil is a carrier oil, which makes it safe to apply the other concentrated and highly therapeutic oils directly on your face. Coconut oil has been used for hundreds of years in traditional beauty regimens. Modern research shows it protects the skin against harmful UV radiation.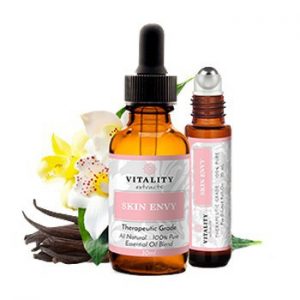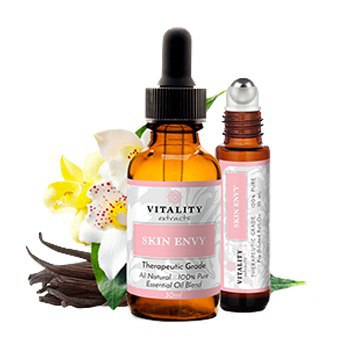 SPECIAL OFFER
Today Skin Envy is running a 50% off promotion. They are also giving away free bottles of Skin Envy. The more bottles you buy, the more free bottles you will receive, (but they limit you to two free bottles per transaction). All you have to do is click the coupon below. This offer is limited and expires today. So don't wait until it's too late, take advantage of this incredible offer now. Don't forget to come back and let us know about your results!
Simply click this link or the coupon below to get 50% OFF and a free bonus bottle.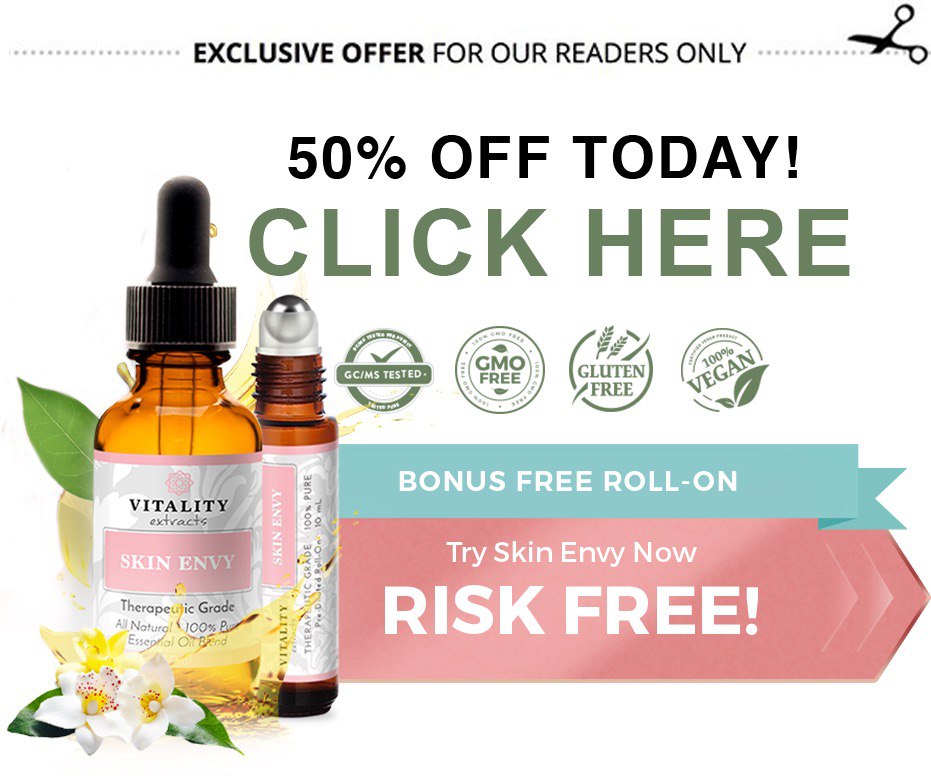 ---
This is a one time purchase with no hidden additional cost or obligations.
UPDATE: These are selling out fast. The company is currently shipping these within 24 hours while in stock. They have several free bonus bottles left, but they mentioned that once those run out, the promotion will end. If you want to try this out for yourself, now is the time before this amazing deal expires. Its risk free so you have nothing to lose!