It's estimated that there are over 50 million dogs suffering from separation anxiety living in U.S. households today. Many people assume puppies are more prone to separation anxiety. And while that certainly may be the case, especially for rescue dogs, it's not just puppies that suffer from separation anxiety. This condition is prevalent in senior dogs, as well. In fact, according to the American Society to Prevent Cruelty to Animals (ASPCA), approximately 40% of senior dogs suffer from separation anxiety on any given day.
Clearly, if your dog has separation anxiety, he or she is not alone. However, when your dog is acting out, there's little comfort in knowing there are lots of other dog parents suffering a similar fate.
Signs of Separation Anxiety
How do you know for sure if your dog has separation anxiety? Is mildly pacing back and forth before you have to leave for work a clinical definition? Or are more serious cases such as shredding the couch to pieces only worthy of a diagnosis?
The answer, according to ASPCA, is both the above and everything in between. The most common signs of separation anxiety are whining, barking and howling, which collectively account for 70% of separation anxiety symptoms. As for destroying objects, ASPCA estimates 60% of dogs display this behavior. And approximately 30% of dogs with separation anxiety urinate or defecate while indoors.
If your dog greets you exuberantly when you come home, this, too, is indicative of separation anxiety.
Why Does My Dog Have Separation Anxiety?
There are the obvious reasons, such as being away for several hours because of work or school. Changing residences, the loss of another household pet or family member or any other change in routine can trigger separation anxiety.
What Can I Do For My Dog's Separation Anxiety?
Unless your pet is feeble or unwell, try exhausting your dog with a long walk or lots of play before you leave for the day. You can also try leaving a couple chew toys around the house and fill them with healthy treats. In addition, you can hide some of your dog's dry food in various places. If possible, hide the food while your dog's not looking. Point your dog in the direction of one of the hiding spots immediately before you go.
Also, if your pet displays anxiety while you grab your keys or put your shoes on before you leave for the day, do these activities well before you leave for the day. (Make sure your car keys are already in your pocket.)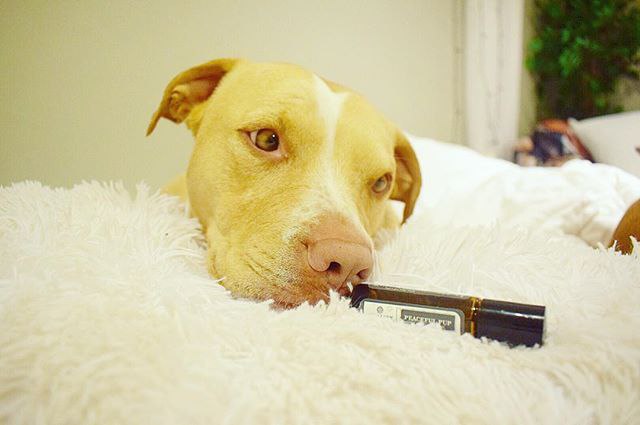 Natural Remedy for Separation Anxiety – Try Peaceful Pup
Frustrated, many pet parents seek prescription drugs for their dogs, like Xanax, from a veterinarian. However, just as with humans, medications can cause negative side effects in canines. As a result, today, more and more veterinarians are turning to all-natural alternatives to these harmful medications.
Specifically, a veterinarian favorite is Peaceful Pup, a 100% all-natural dog calming oil.
Peaceful Pup is a unique blend of seven plant oils: lavender, cypress, geranium, lemon, frankincense, almond and German chamomile. Each of these oils is supported by clinical research to calm the nervous system.
How Does Peaceful Pup Work?
During one study, lavender helped dogs spend significantly more time resting and sitting, and less time moving and vocalizing during the travel experiment. Chamomile has been used for centuries to help people relax and calm the nervous system. A 2017 study concludes it can significantly induce relaxation. Frankincense, one of the most prized botanicals for thousands of years, has a renown, positive effect on emotional well-being. If your dog displays aggressive behavior, such as attacking a suitcase when you're getting ready to leave, it will help to calm your canine down.
Geranium has been shown by research to possess natural antidepressant, sedative, and muscle-relaxing properties. It also helps ease breathing. Both lemon and cypress oil have been found in preliminary studies in animals to have sedative and anxiety-reducing properties. Finally, almond oil is a carrier oil that makes it possible to blend this one of a kind calming remedy for dogs.
How Do You Use Peaceful Pup?
In the morning, about 30-60 minutes before you leave the house, pour about 10 drops of Peaceful Pup into an oil diffuser in the room in which your dog spends the most time. The manufacturer of Peaceful Pup is currently offering a free roll-on bottle with every purchase. Apply the roll-on back and forth on your palm and then rub your dog's back along the spine, ears and foot pads.
Real Dogs. Real Results. 

---

Can Peaceful Pup Help With Other Types Of Stress and Anxiety?
Yes! Peaceful Pup is effective in calming dogs under any stressful situation. Severe thunderstorms or firework shows, introductions to new places or people, travel – these are all stressful for your dog. Peaceful Pup is safe and effective to use for all of these and any nervous situations. The convenient TSA approved roll-on bottle makes walks and travel a breeze. 
Is Peaceful Pup Guaranteed to Work For All Dogs?
Yes! Peaceful Pup comes with a 60-day, risk-free, satisfaction guarantee.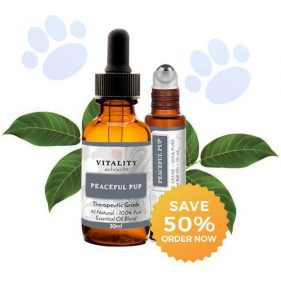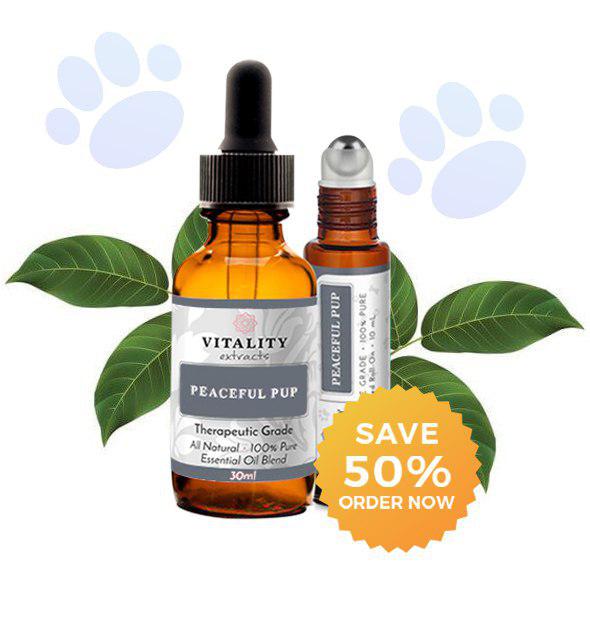 Where To Buy Peaceful Pup?
Peaceful Pup is running a 50% OFF and FREE BOTTLE promotion. With your purchase, you will receive a free roll-on bottle of Peaceful Pup and free shipping today only. The more bottles you buy, the more free bottles you will receive (limit three free bottles per transaction). Don't miss out on this incredible, one-time opportunity. Please come back and share your results with us.
Just click this link or the coupon below to get 50% off of Peaceful Pup and receive a free bonus bottle.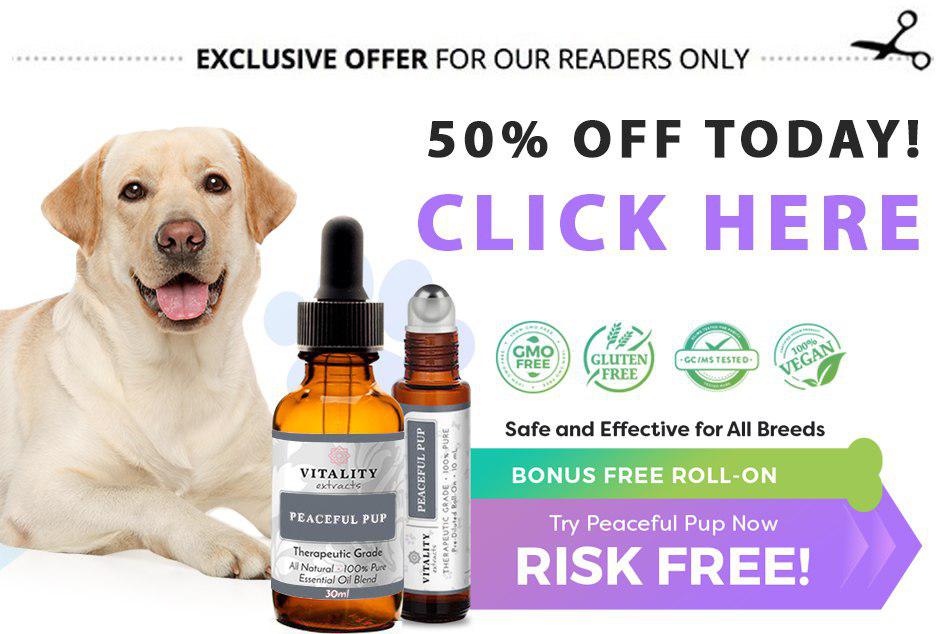 This is a one time purchase with no hidden additional cost or obligations.