My name is Ashley Vitale, esthetician and professional makeup artist.
Those who know me, know how badly I struggled with dry skin, redness and acne for most of my life. Unfortunately at the time, I didn't have the knowledge or understanding to correct the underlying issues that were going on with my skin. Nor did I have the money for all these expensive products people were saying I needed to put on my skin.
So instead, I covered my face with makeup. It didn't matter how much makeup I used, I could always see my dry, textured bumps underneath and it agonized me.
Determined to find a solution to improve my ailing skin, I decided to educate myself and became a licensed esthetician in 2012. Ever since then, it has been my mission to educate others – especially women – on how to treat and take care of their skin using only healthy natural ingredients.
This is why I'm especially excited to partner with Vitality Extracts and share Skin Envy with you! This five-ingredient plant oil blend truly nourishes and heals the skin from within.
What is Skin Envy?
Simply put, Skin Envy is a custom blend of just 5 therapeutic essential oils, expertly blended together to fight the signs of aging and restore youthful-looking skin. Inspired by holistic approaches to health and beauty, the founders set out to develop a safe, all-natural product for the skin that delivers quick, visible results and rejuvenating effects—and they succeeded!
Take a look at this quick video to see how each of the 5 natural ingredients works together to create a revolutionary skin nourishment serum.
[wpvideo xBkMdarF]
More important than the amount of makeup you wear, more important than your face wash/product routine – you absolutely MUST give your skin the vitamins and nourishment it needs to keep itself hydrated, toned and protected – and Skin Envy's 5 natural ingredients do just that.
How do I Use Skin Envy?
Skin Envy reduces the appearance of wrinkles, restores firmness to sagging skin, fades discolorations (like color spots and blemishes) and even diminishes scars and stretch marks. The moment it is applied, Skin Envy goes to work to turn back the clock. The results are instant upon application, and the solution continues to work throughout the day and night.
Not only is it super effective, but you will absolutely fall in love with how simple Skin Envy is to add to or supplement your daily skin routine – no matter its complexity.
The following videos highlight the top three applications for Skin Envy. After you learn how easy Skin Envy is to use I will share with you an exclusive offer that is unavailable anywhere else!
Skin Envy Facial Application
[wpvideo xtYb4h6L]
Facial application is the most common use for Skin Envy, although it can be used on skin across the entire body. Gently massage 10-15 drops into your hands and be sure to use upwards motion only when applying to the face. Apply to the cheeks, nose, temples, neck or anywhere that needs tightening, toning or a quick touch up.
Leave on the face for 10-15 minutes before using a warm damp cloth to dab the oil off. Then continue with your daily routine as normal! It's great in the morning, pre-makeup application and at night before bed.
Skin Envy Body Application
[wpvideo eKnGDJQR]
Skin Envy was formulated for the entire body, meaning it can be applied to the hands, feet, arms, legs – anywhere! Simply drop 10-20 drops into your hands and gently massage the area you are applying to. Feel free to add Skin Envy to your favorite lotion or moisturizer to add the nourishing nutrients of the 5 all-natural ingredients to your daily and nightly moisturizing routine.
Skin Envy Bath Application
[wpvideo jke9cuEB]
Another easy way to experience the rejuvenating effects of Skin Envy is in the bath. As you start to fill the bath, add 15-20 drops of Skin Envy to the water. The extracts will quickly disperse and fill the room with a pleasant, soothing aroma. Then sit back, relax and let Skin Envy work its magic as you bathe. Be sure to reapply Skin Envy after you dry off!
Exclusive Special Offer
Thousands of people are currently enjoying youthful, toned skin thanks to the natural nourishing powers of Skin Envy's 5 powerful ingredients. As if the testimonies of thousands of satisfied customers wasn't enough to convince you to give it a try, Vitality Extracts has given me permission to offer an exclusive deal to all of my readers! 
If you are seeing this deal, you should know that it is not available anywhere else online! Don't miss this incredible opportunity to get Skin Envy at a huge discount AND receive a FREE Bonus Skin Envy Roll-On! (Yes, Absolutely Free!) Click this link or the coupon below to claim your Free Bonus Roll On!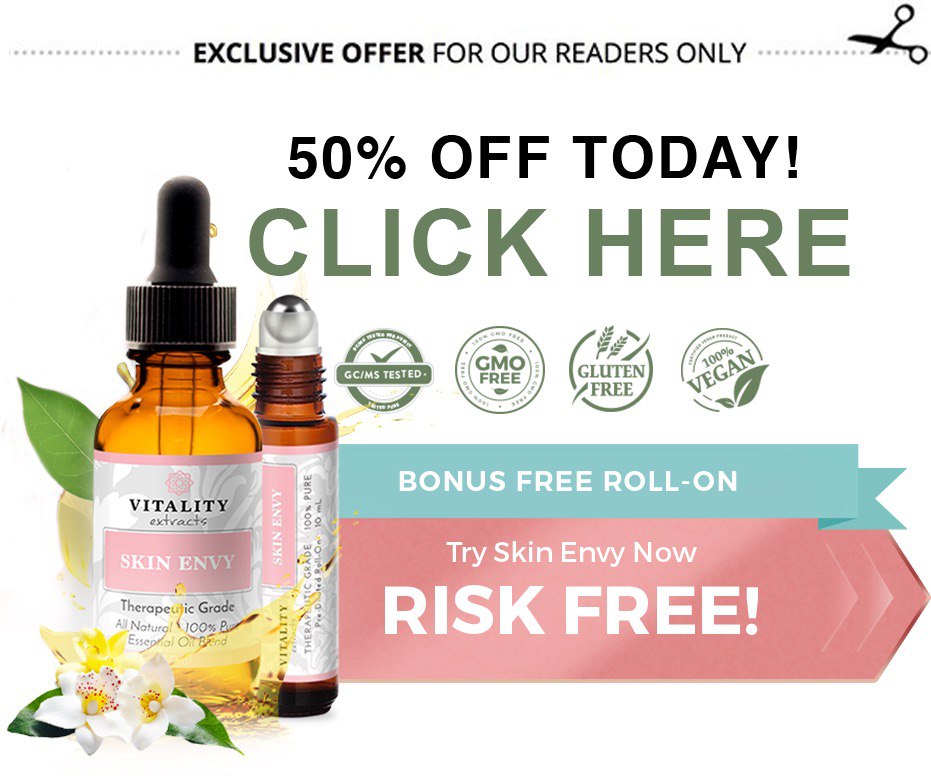 FAQ's & More Information
Is Skin Envy Guaranteed to Work For Everyone?
Yes! Skin Envy comes with a 100% risk-free satisfaction guarantee, so you have nothing to lose.
Is Shipping Free?
Yes. You get free shipping through their current promotion.
Whats Included? 
If you act now while they are still in stock, you'll receive a 30ml bottle of Skin Envy Anti-Aging Serum for over 50% off the retail price and receive a free bonus roll-on bottle!
---
UPDATE: These are selling out fast. The company is currently shipping these within 24 hours while in stock. They have several free bonus bottles left, but they mentioned that once those run out, this promotion will end. If you want to try this out for yourself, now is the time before this amazing deal expires. It's risk free so you have nothing to lose!