Think it's ok to leave your dog all day alone at home? Think again. According to K9 Magazine, 85% of dogs left alone at home suffer from at least one symptom of separation anxiety.
Some dogs display the typical signs of separation anxiety within a half hour of being alone: 
Howling 

Barking 

Whining 

Pacing incessantly

Vomiting

Defecating or urinating
But many dogs will display less obvious signs of stress, including: 
Salivating excessively

Scratching furniture

Self-mutilating (gnawing at their fur)
And even more subtle is when a dog shows signs of lethargy and mild depression. You may not be home to witness it, and you may not even realize your dog is suffering. After all, when you get home, chances are your dog will be so ecstatic to see you, it'll seem like everything is perfectly fine.
But just because your dog may have somewhat learned to adapt to being home alone all day does not mean he or she can cope with separation anxiety.
The Ultimate Coping Mechanism That Helps Your Dog Stay Happy And Calm All Day—Even When Alone for 8+ Hours a Day
Many pet owners try to alleviate their guilt of leaving their pet at home alone all day by saying it's fine and completely normal.
But by nature, dogs are sociable, pack animals. They aren't meant to be at home alone all day. 
Unless you are giving your dog something to help it cope, your dog is lonely and sad. Unfortunately, chew toys will only ease your dog's separation anxiety for about 10-20 minutes. Your dog is likely suffering the other 7-plus hours a day.
The good news is you never again have to feel guilty about leaving your dog home alone all day. And your dog never has to suffer another day from separation anxiety.
That's because Mother Nature and science have combined to form the ultimate solution for helping dogs cope with being left alone. The solution is called Peaceful Pup.
Peaceful Pup is a veterinarian-approved, drug-free, 100% pure blend of 7 therapeutic plant oils. The healing compounds in these plants (the 'essential oils' of the plants) have been proven in research studies to have profound calming effects.
And when these following 7 oils are blended in the perfect ratio that's contained in Peaceful Pup, the soothing properties on the central nervous system are even greater:
How Do You Use Peaceful Pup?
Peaceful Pup comes in 2 different bottles: an aromatherapy bottle and a roll-on bottle. For best results, use both.
To diffuse, simply pour 10-15 drops of the aromatherapy bottle into an essential oil diffuser. Diffuse Peaceful Pup twice a day, in the morning before you leave for work, and then again in the evening.
To use the roll-on bottle, apply it directly to the back of your dog's neck and massage it in with your fingers. You can also apply the oil directly to the bottom of your dog's paws for quick absorption of the therapeutic oils.
Make sure you apply the roll-on bottle directly to your dog approximately 20-30 minutes before you leave for the day.
What Can You Use Peaceful Pup For?
Use it for any stressful situation, including: 
Vet Visits

House Guests

Dog Walks/Dog Parks

Baths/Dog Groomers

Road Trips/Travel

Separation Anxiety
Is Peaceful Pup Safe For All Dogs?
Yes! Peaceful Pup's 7 all-natural ingredients are 100% pure and safe for all breeds, all sizes and all ages of dogs. Its 100% people safe too. 
"I have a 9 to 5 job, so I am out most of the day. I also have 2 dogs, both with separation anxiety. Nothing was working until we tried Peaceful Pup. Now we have a peaceful home. Highly recommend." -Melanie M.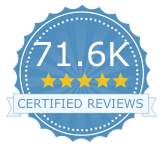 Is Peaceful Pup Guaranteed to Work For All Dogs?
Yes! Peaceful Pup is guaranteed to work and comes with a 60-day, risk-free, happiness guarantee.
Peaceful Pup 24 Hour Flash Sale! 50% OFF & A Free Roll-On Bottle!
Save an Extra 50% OFF and a receive a free roll-on bottle TODAY ONLY.
Just click this link or the coupon below.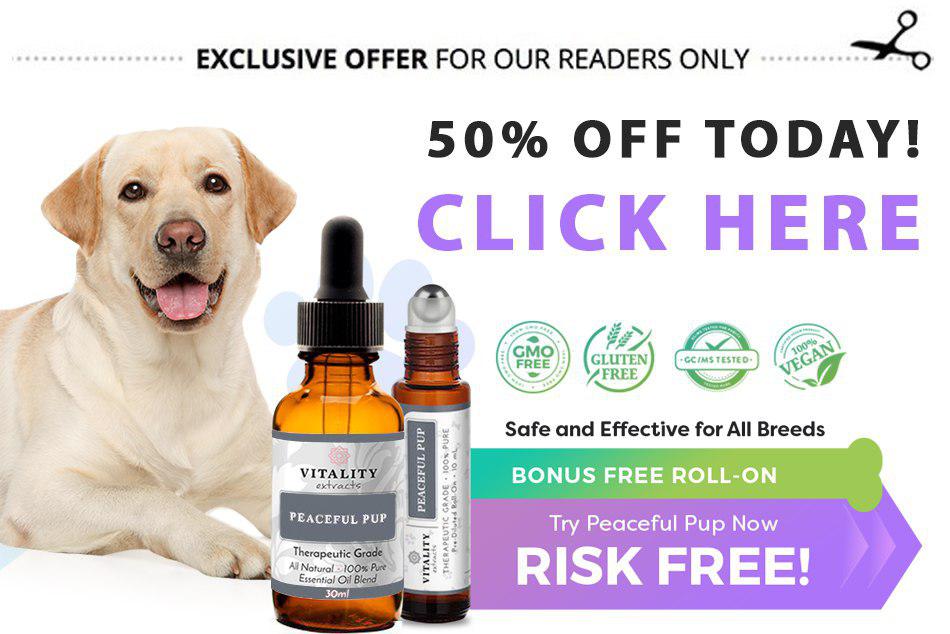 If you truly think of your dog as a member of the family, order Peaceful Pup right now. It's a simple, cost-effective and humane solution for keeping your dog happy while you're gone all day. Take advantage of this one-time offer and order Peaceful Pup today!