What if there was a all-natural sleep remedy that allowed you to drift into a deep sleep within minutes of using it, everytime? One that made your nervous system become so relaxed that your body felt like melted butter.
What if you could stay in a state of deep sleep for 8 hours a night, every night.
Does this sound too good to be true? Wait, we're not done. Now imagine never waking up tired or groggy again. Interested?
You don't need a doctor's appoitment or a prescription for this remedy. It is non-habit forming and there is no risk of becoming addicted to it. It's totally safe for the whole family to use, even children. Best of all, you can use it every night and its effectiveness will never wear off over time like a drug.
Because of the pharmaceutical industry's billion-dollar advertising budgets, many people have been falesly led to believe that prescription drugs are the only effective sleep remedy. Modern science is proving them wrong. 
Recent research has proven that certain plant extracts have powerful deep sleep inducing compounds and can be more effective than drugs. In fact, 5 specific plant extracts (also known as thier essential oils) can help you quickly fall asleep and stay asleep.
Unlike with prescriptions and over the counter drugs, you'll feel so refreshed in the morning that you won't need that second cup of coffee.
The 5 Best Essential Oils For Deep Sleep
#1: Lavender 
The most studied essential oil for sleep, there is substantial evidence that the active ingredients in lavender promotes deep sleep. One such study looked at lavender's effectiveness on intensive care unit patients.1 The researchers concluded, "Lavender essential oil increased quality of sleep and reduced level of anxiety in patients."
If lavender can help people get a better night sleep in the ICU, it can work for you, too.
#2: Chamomile
Contains the compound, apigenin, which binds to benzodiazepine receptors in the brain, resulting in a profound sense of relaxation. But you don't have to worry about side effects with chamomile like you do with benzodiazepine ("benzo") drugs. 
Inhaling the vapor of chamomile oil also lowers the level of a certain stress hormones in your body called ACTH.2
#3: Sweet Orange 
Taking a few deep breaths of sweet orange oil puts you in a relaxed, calm state and lowers your heart rate. Research has shown that orange oil signifigantly reduces sleep disturbances in people who have trouble staying asleep.3
#4: Coriander
Studies show it increases total sleep time. "Coriander exerts a sedative and hypnotic influence," concludes one study. Other research shows it activates a neurotransmitter called GABA. That's a great thing if you want to sleep deeply. That's because the more of this chemical messenger you have active in your brain, the more your nervous system relaxes. Normal GABA levels are critical for a good night's sleep.4, 5 
#5: Juniper Berry
Juniper decreases your "fight or flight" stress response while activating your "rest and relax" nervous system. A mixture of oils including lavender and juniper berry has shown to reduce sleep disturbance and improve overall sleep in patients.6,7
Getting Plant Based Therapy For Deep Sleep To Work For You
More often than not, people who use essential oils for sleep aren't using them correctly.
It's actually pretty simple: just pour about 10 drops of essential oils in a diffuser before bedtime and then rub a diluted, skin-safe oil on your wrists, temples and the bottom of your feet right before you close your eyes.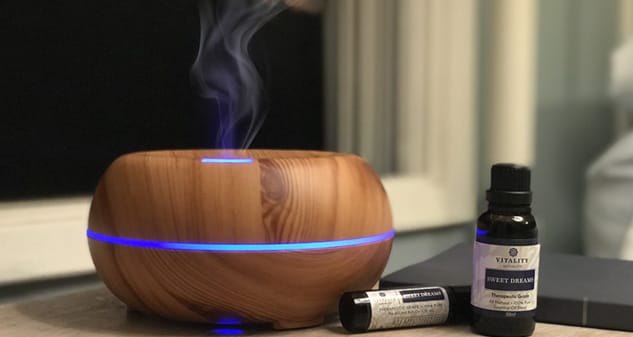 Where many people get it wrong is by using the wrong oils or combining the wrong oils. (Certain essential oils can actually make you feel alert and awake only worsening the situation.)
Stick to the oils mentioned above and for best results, use a proven blend of them. Getting the right blend and measured balance of oils is critical for a guaranteed good nights sleep. 
Sweet Dreams: The Most Powerful Essential Oil Blend For Sleep You Can Buy
If you're looking for an easy way to get the perfect blend of the 5 best essential oils for sleep, researchers have found it for you. They've formulated a doctor-approved premium blend, which to date has been reviewed by over 70,000 happy customers, earning an impressive 4.9 out of 5 stars rating. This best selling, 100% all-natural blend is appropriately named Sweet Dreams.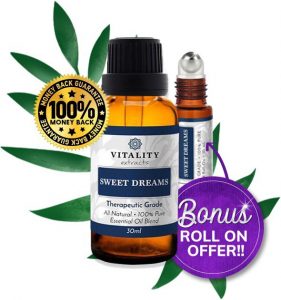 Special Offer
Today only, you can get free bottles of Sweet Dreams! Here's how it works: With each aromatherapy bottle you purchase, you'll receive a free roll-on bottle. The Sweet Dreams Roll-On bottle comes pre-diluted with 100% pure fractionated coconut oil, making it safe and easy to apply on your skin. Due to high demand and low inventory, there is a limit of 3 free bottles per order.
Simply click this link or the coupon below for more info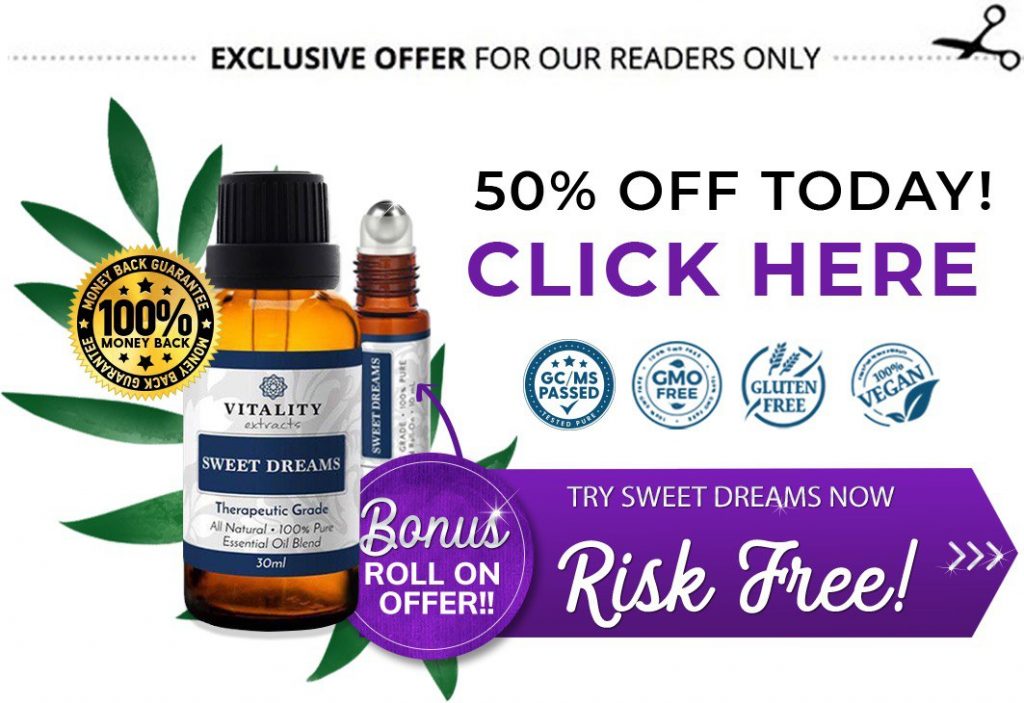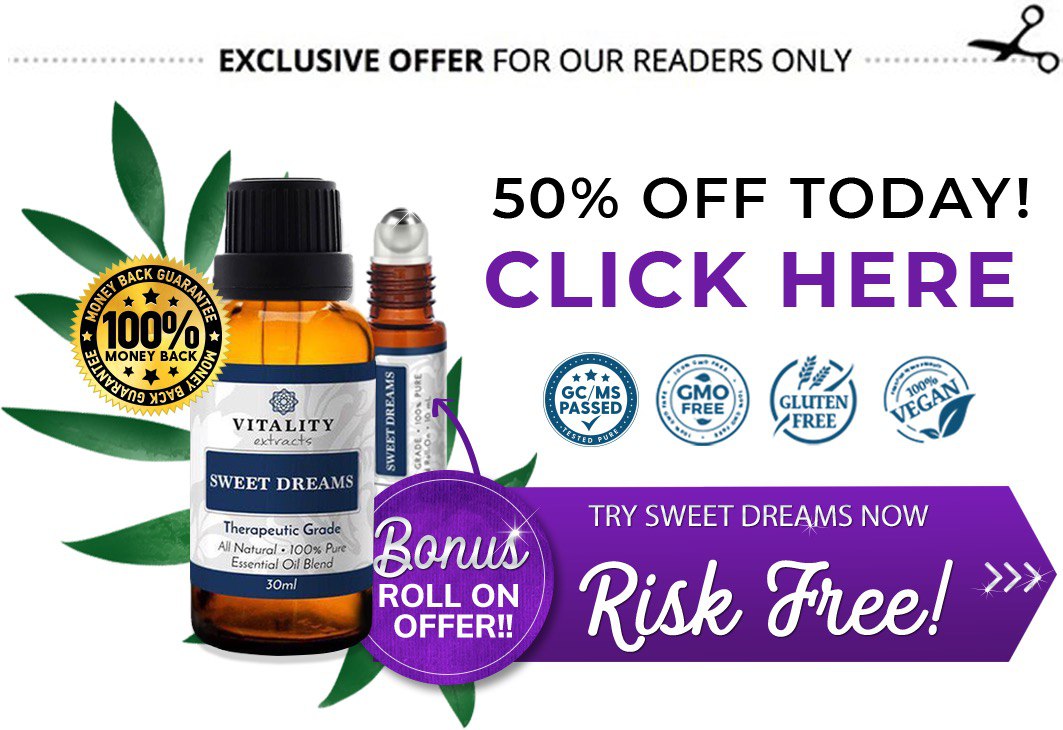 ---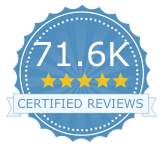 References: 
1. https://www.ncbi.nlm.nih.gov/pubmed/26211735
2. https://www.ncbi.nlm.nih.gov/pmc/articles/PMC2995283/
3. https://www.ncbi.nlm.nih.gov/pmc/articles/PMC6073409/
4. https://www.ncbi.nlm.nih.gov/pmc/articles/PMC5611612/
5. https://www.ncbi.nlm.nih.gov/pmc/articles/PMC5355817/
6. http://www.bslonline.org/journal/view.html?doi=10.15616/BSL.2017.23.3.286
7. https://www.ncbi.nlm.nih.gov/pmc/articles/PMC3612440/