After spending thousands of dollars on skin care products over the years, I thought I'd never find an all-in-one product that could do it all. Help my skin glow brighter, reduce age spots, make my wrinkles disappear, and leave my complexion looking smoother and firmer.
I was so tired and frustrated with trying different anti-aging products. The 8 different products I was using morning and night weren't doing anything to turn back the clock on the sun damage from years of blissful ignorance. If only I knew then what I know now. 
I figured that the chances of finding that one product that actually worked without toxic, cancer-causing ingredients was about as likely as winning the lottery. I became desperate. I Googled "Botox near me." Within minutes I had an appointment. 
About a week before the free consultation with a plastic surgeon, I had a physical scheduled with my doctor. She is not a fan of Botox and turned me on to a new all natural product called Skin Envy. The results have been nothing short of amazing. The crazy thing is that Skin Envy has been around for thousands of years, well kind of, but I will get to that in a minute. 
For Thousands of Years, Women Around the Globe Have Been Using These 5 Plants For Younger Looking Skin

Before I tell you about how remarkable Skin Envy is, let me just say I still can't believe I was ready to spend yet thousands more on Botox. Shortly before I looked into Botox, I made an impulse purchase of a much-hyped serum that costs almost $500 for a little 5 oz. bottle. I had read about it in a celeb gossip magazine and decided to treat myself for my 40th birthday six months ago.
Not only did I not notice much of a difference in how my skin looked, but I was also shocked to learn that it contained cancer-causing preservatives like methylparaben. Parabens have been linked to cancers caused by hormone system disruptors. Both my mom's two sisters are breast cancer survivors. I'm lucky I got my money back.
When my doctor told me about Skin Envy, it sounded so simple. Of course! Mother Nature has the answers to everything. I realized I had become so influenced, make that brainwashed, by all the glitzy ads. I thought I had to have the latest "it" thing that people are talking about all over social media.
But really, all my skin needed were the oils made from 5 specific plant extracts:
Frankincense is one of the leading wrinkle-fighting ingredients in the world. It's even recommended by dermatologists. For well over 2,000 years, women around the world have been using it as a natural astringent and youth serum.
Myrrh, is another celebrated plant mentioned in the Bible. It was used by Queen Esther to soothe and rejuvenate her dry, cracked skin. It can also minimize the appearance of skin patches.
Together, these two ancient healing oils are now proven by modern research to be highly effective in the treating of all kinds of inflammation, including the kind that causes premature skin aging. In China, frankincense and myrrh are often used together to increase blood circulation, which helps nourish skin cells and keep them vital. The more fresh blood flow, the more oxygen and nutrients get delivered to your skin cells.
Sandalwood has demonstrated biological activity as an anti-inflammatory, anti-microbial, and anti-proliferative agent. Sandalwood oil is an essential oil distilled from the Santalum album tree that has been used topically for centuries in both Ayurvedic and traditional Chinese medicine to treat skin irritations.
Vanilla contains natural anti-inflammatory and antioxidants properties which help maintain an even tone and to protect your delicate skin against environmental stressors like cold or dry conditions and sun exposure.
Coconut locks in hydration and provides a protective moisturizing barrier. It also softens and conditions dry, rough skin. It has antifungal and antibacterial properties that heal and soothe the skin, leaving it baby soft to the touch.

How To Use Skin Envy?
It's very easy to use Skin Envy. It's a simple 3-step process. In the morning, pour a few drops from the 30 ml bottle and rub the drops in your palms. Apply it to any problem areas of your skin. You'll instantly notice a radiant glow. With every purchase of Skin Envy, you get a free roll-on bottle. Throughout the day, use the roll-on bottle to moisturize dry skin and treat blemishes, wrinkles and fine lines on the spot. In the evening, after washing your face, massage a few drops of Skin Envy directly on your head and neck. You can also pour up to 10 drops of Skin Envy in your bathtub for silky, soft skin from head to toe.

---

Is Skin Envy Guaranteed To Work For Everyone?
Yes! There's a 60-day no questions asked, money back guarantee. Returns are easy and customer service is great.
Is Shipping Free
Yes. Shipping is fast and free and you get a free bonus bottle through their current promotion.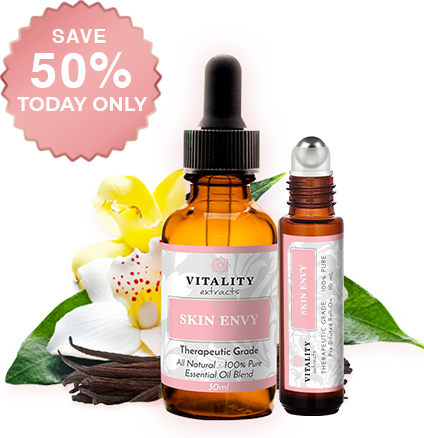 Where To Buy Skin Envy
You can only purchase Skin Envy direct from the manufacturer. If you want this product, you have to hurry! Skin Envy sells out quickly, and keeping it in stock has proven to be difficult. Ordering is fast and easy and they ship within 24 hours. Just click this link or the coupon below.
Right now, they are running a BUY ONE GET ONE FREE promotion. You get a free roll-on bottle for every bottle you buy, (but they limit you to 3 free bottles per transaction). You'll want to act quickly though; this limited offer ends today and can't be found anywhere else! Go ahead, give your skin exactly what it deserves before it's too late.